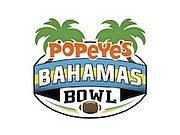 By RENALDO DORSETT
Sports Reporter
rdorsett@tribunemedia.net
A STAPLE of the Popeyes Bahamas Bowl Week has been the community outreach programmes highlighted by a visit to the Ranfurly Home for Children and the hosting of a Youth Football Clinic for aspiring players.
In the upcoming third edition of the game, the Popeyes Bahamas Bowl Committee has partnered with the local governing body for football, the Commonwealth American Football League, as the clinic looks to expand its reach and develop simultaneously with the game.
Richard Giannini, executive director of the Popeyes Bahamas Bowl, said his committee considered the clinic its "number one priority" when it came to fostering a relationship with the local community.
"Our number one priority is our Youth Football Clinic. That is our most important outreach at this time. The CAFL is going to help facilitate youth at that event as will continue to try to make that bigger and better and get many more involved in that clinic," he said,.
"Secondly with the exposure that we bring with major American college football it will provide the interest for these young potential football players and make the most of whatever opportunities they have on the island. Interacting with the youth is very important to us. Our primary goal is to establish that clinic and we will do some things moving forward as it grows in the future."
CAFL President Antonio Maycock said the league was thrilled to work with the Popeyes Bahamas Bowl and sees it as an opportunity to introduce the long-awaited high school programme.
"It's good that we have an invite this year to be a part of the planning. Our role is to assist the youth clinic. It gives us a chance to see the football expertise and personnel in the Bahamas that can lend assistance to the youth and interact with the players that will be coming down from various teams. We are excited about that and happy that we have an invite in that aspect of it because it helps our league to expand its outreach in this area," he said.
"Our objective is to try and get American football into high schools. With the Popeyes Bahamas Bowl inviting us to assist with the clinic, I see it as an opportunity for us to promote and jumpstart the high school programme as well which is the next step in our evolution."
At the youth clinic, dozens of students from kindergarten to high school players took part in various drills by the USA Football staff and players from both teams.
NSA General Manager, Jeffrey Beckles, said the clinic is just one way of uncovering hidden talent in the Bahamas.
"We're using these events and these opportunities to showcase to our young people what the future can look like. We all talk about Buddy Hield and Jonquel Jones but we know there are many more of them.There are many more Golden Knights and Golden Girls. Many more of them that reside right here in the Bahamas," he said, "We are going to continue to work these partnerships and alliances, to showcase what the future can look like and to provide opportunity for young Bahamian to have access to scholarships where they can not only continue their education but to achieve their athletic objectives in life."
Caption: CAFL and Bowl Executives meet at the Popeyes Bahmas Bowl Summit. Pictured L-R: Gibson McDonald, Richard Giannini, Antonio Maycock, Michael Foster