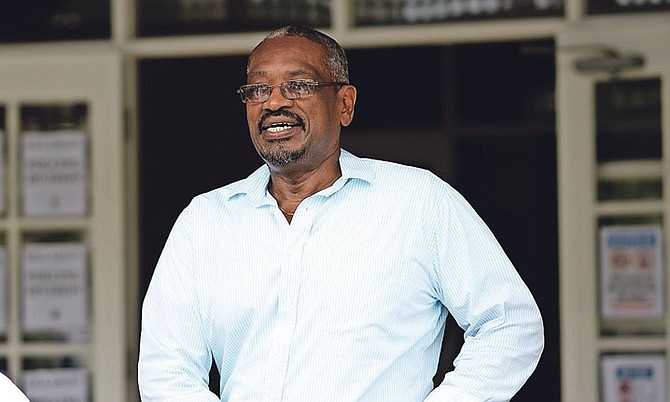 By LAMECH JOHNSON
Tribune Staff Reporter
ljohnson@tribunemedia.net
FREE National Movement Leader Dr Hubert Minnis is challenging the government to prove itself up to the task of offering realistic and concrete solutions to improve the country's economy and security.
In a statement released yesterday, Dr Minnis said that the Christie administration did not address or indicate how it was going to solve the woes that have plagued the country since winning the May 2012 election.
"The PLP government failed to give any concrete plans on how they are going to solve the many problems that have come to light in the previous four years," he said.
(Last) week's budget communications were full of more empty rhetoric and broken promises. As we start to finish up the budget debate this week I challenge the government to offer real solutions for the Bahamian people. Hopefully they will offer a well thought out plan to address the growing debt. Will they finally have a plan that ends our country's two straight years of negative economic growth? Or will they finally address the massive unemployment created by the stalled Baha Mar debacle and deliver the 5,000 good paying jobs they promised?"
"We have seen the murder rate take a record breaking spike the past four years yet there is no solid plan to address it. The Bahamian people are scared to leave their houses at night due to the ever increasing crime wave. Will this government finally take this week to offer the Bahamian people a real plan of action for the vexing crime epidemic that is plaguing this country?"
Last month Prime Minister Perry Christie, during his nearly four-hour presentation on the 2016-2017 Budget Communication, lauded his government's ability to secure a "framework agreement" to resume construction efforts at the Baha Mar resort and cut the government's fiscal borrowing over the course of the next budget cycle.
He also announced a revamped mortgage relief initiative, an apprenticeship programme aimed to reduce youth unemployment, adjustments to customs rates and even minor programmes aimed at spurring economic growth.
However, the communication revealed very little details of his administration's plan to arrest violent crime.
Prior to the 2012 election, the PLP unveiled billboards drawing attention to the FNM's then record of 490 plus murders during their five years in office. The PLP had surpassed that figure with more than a year to go to the next election.
There have been 514 homicides since May 7, 2012, according to The Tribune's records.
Mr Christie also did not give definitive details with regards to a completion date for Baha Mar, which was expected to stimulate the economy and produce thousands of jobs. Neither were details given on the issue of payment to unsecured Bahamian creditors, only saying they would be "considered" during the re-mobilisation process. He stressed that negotiations were underway to agree to appropriate timelines and a schedule for completion.
Dr Minnis added: "It is our hope that this government will finally rise to the challenge which they themselves have helped to create in our country. No more empty rhetoric or continued broken promises. This week will be a true test of whether the PLP has any meaningful plans to get The Bahamas back on track."