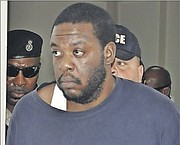 By DENISE MAYCOCK
Tribune Freeport Reporter
dmaycock@tribunemedia.net
AMERICAN convict Michael Bradley was sentenced on Tuesday by a Supreme Court judge to 20 years imprisonment for killing his 71-year-old father-in-law following an argument at the family's home in Hawksbill, Grand Bahama.
As Bradley, 31, was being led away by officers outside the courthouse, his two young children called out to him. "Goodbye, Daddy," they said.
Dawn Bradley, his sister, Aida, his ex-wife, and the couple's two children watched sadly as Bradley was whisked away into a police van for transfer to New Providence for his incarceration at the Bahamas Department of Correctional Services.
Because Justice Estelle Gray-Evans took into consideration the time of one year and five months already spent on remand, Bradley will instead serve 18 years and seven months in prison.
In January 2015, Bradley stabbed Sundiata Karamo in his home after the victim came to the assistance of his daughter as the couple fought.

Bradley, who is from Detroit, Michigan, moved to Grand Bahama with his wife and had only been living with her family for six months prior to the incident.
He was initially charged with murder. However in November 2015, during a pre-trial hearing in the Supreme Court, Bradley pleaded guilty to a reduced charge of manslaughter, which was accepted by the Crown.
Before passing sentence, the court heard from Wynette Goodridge of the Department of Probation and Welfare Services who compiled a probation report on Bradley, and also from psychiatrist Dr John Dillet by way of video conferencing.
According to the probation report, Bradley had developed a drinking problem at a young age following the death of his mother to cancer. He was a binge drinker and was hospitalised for alcohol poisoning while living in the US and was admitted into an alcoholic rehab programme.
Ms Goodridge said Bradley could not remember killing his father-in-law.

Bradley had been described by his ex-wife as being mentally abusive, argumentative and someone with male chauvinistic qualities who used the Bible to justify it.
Prior to the killing, Bradley had been drinking heavily. He and his wife got into an argument and the victim went to her aid.
Ms Goodridge interviewed Latisha Karamo, the wife of the deceased. She said that Mrs Karamo felt that Bradley deserved an extended custodial sentence for what he had done and felt he was a danger to society.
On the other hand, Dawn Bradley described her brother as a loving individual, and attributed his drinking problem to the death of their mother. Ms Bradley said her brother was not typically a violent person, but felt that a custodial sentence needed to be imposed.
Dr Dillet said that Bradley did exhibit traits that border on "paranoia and imaginative thinking," but said these did not meet the full criteria for schizophrenia.
Prosecutor Olivia Blatch suggested a sentence between 18 and 35 years based on the aggravating factors. She noted that Bradley was unemployed and had attempted to strangle his wife and that her father had tried to protect her.
She also noted that Bradley had expressed no remorse or taken responsibility for his actions.
Later, Bradley was given a chance to speak. He stood up, faced those seated in the courtroom and apologised for what he had done.
"I am sorry for the situation that occurred," Bradley said yesterday. "I would like to apologise to my wife, my sister, and children. I am genuinely sorry for what I did. I did a lot of stupid stuff. I take full responsibility for what happened.
"I have given my children a bad name. Dawn, I am sorry for putting you all through this stuff and coming out here. I am genuinely sorry for what I did and for putting my family through this. I deserve whatever punishment that the judge imposes," he said.
Attorney Mario Grey said his client is truly sorry and had spoken to Mrs Karamo three weeks ago and apologised. He said that Bradley is not a violent person and was under the influence of alcohol when the incident occurred.
He noted his client grew up in the US and had one infraction with the law as a result of his alcoholism.
Mr Grey said his client had accepted responsibility by pleading guilty to the offence at the outset avoiding a lengthy trial.
He raised an issue with two points put forth by the prosecution. Mr Grey said Bradley had just moved from the US and had only been living in Grand Bahama for six months and did not have a work permit in order for him to have gainful employment.
Mr Grey also said that his client did take responsibility for what he had done by pleading guilty to the crime at the first opportunity.

In passing sentence, Justice Evans said she not only took note of the probation and psychiatric reports, but also read the statements made by Dawn Bradley and Aida Bradley, as well as by the convict to the police shortly after the killing.
"I agree with counsel that Bradley pleaded guilty, and that he has accepted responsibility for his action," she said.
"I also take note of the fact that you have previously, and today apologised to the family."
She added: "I am mindful that the victim was a family member which brings with it additional challenges to other family members. I am also mindful of the fact that alcohol played a major role in the events that unfold on that fateful morning."
"Mr Bradley, you made the right decision by acknowledging your wrong and taking responsibility for your action. There must be some penalty. Your father-in-law is dead and died at your hands. It is my prayer while you are in prison…without the use of alcohol, you will use the time to get some psychiatric help and counselling…so that at the end of your time in prison when you can come out and make a meaningful contribution."