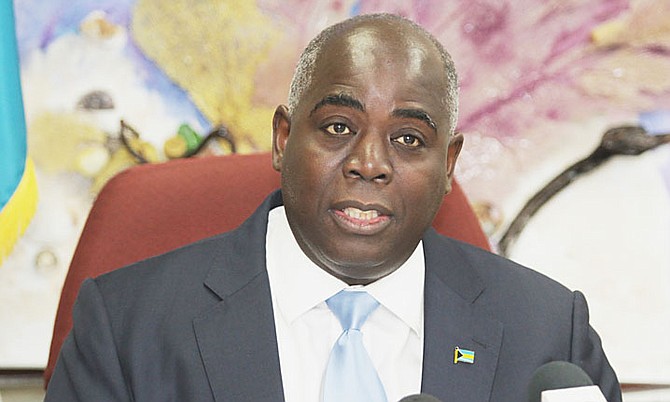 By RICARDO WELLS
Tribune Staff Reporter
rwells@tribunemedia.net
DEPUTY Prime Minister Philip "Brave" Davis revealed yesterday that the government is working on a series of operational agreements with Bahamas Power and Light to write off many of the corporation's delinquent accounts, potentially returning some 3,000 users back to the grid.
Mr Davis told reporters outside of the House of Assembly that he has already approached officials at Bahamas Power and Light (BPL) with hopes of getting them to forgive the debts of consumers who have been unable to settle balances for prolonged periods of time.
He said he has been informed that some 3,000 persons have fallen into this classification, insisting officials now have to look at these clients on a case-by-case basis to determine how best to resolve each matter.
"I have asked the board to consider a programme where persons who have had their lights off for long years, persons indigent, pensioners, (persons) who would have these huge bills because of the cost of electricity at the time," the Minister of Works said.
Mr Davis said he personally knows consumers who have outstanding balances well beyond $5,000.
"They just can't pay it now because of their income," he added. "They barely make sufficient to take care of their everyday needs, much less to take care of electricity. So we have to find an answer for that. I am advised that there are over 3,000 persons who had electricity who are no longer on the grid and have been so for quite a long time."
According to Mr Davis, the potential to forgive these outstanding balances remains just one aspect of ongoing discussions between the Christie administration and PowerSecure – BPL's management company.
Mr Davis, who has responsibility for BPL, indicated that officials are working to secure additional generators to help offset the energy demand seen in the summer months.
Over the last two weeks consumers have been plagued by almost daily power outages as the corporation works to meet demand.
On Monday, Democratic National Alliance (DNA) Leader Branville McCartney slammed PowerSecure as he stressed that the new deal for the utility provider has resulted in no improvement in electrical services despite assurances by the government.
In addition to Mr McCartney, former State Environment Minister Phenton Neymour and former BEC Chairman Leslie Miller have also voiced their dismay with how the management company is running BPL, formerly the Bahamas Electricity Corporation.
However, despite the criticism, Mr Davis throughout his budget presentation and subsequent interviews with reporters praised the move, calling it a major step towards a modern Bahamas.
Mr Davis maintained that the government has received a plan of action from PowerSecure.
When asked if the plan would be released, Mr Davis said he was unprepared to present the plan publicly as there were still a lot of "sensitive issues" that had to be addressed and resolved.
During his presentation in the House of Assembly, Mr Davis said: "By the time we came to office in 2012, the FNM had placed our Bahamas in such a difficult state, a reduced standard of living had become the 'new normal'. More and more Bahamians suffered from a level of unprecedented economic hardship.
"By our charter, we committed to initiate a plan to lower the cost of electricity in the Bahamas. Not only did we initiate that plan, we delivered," he added.