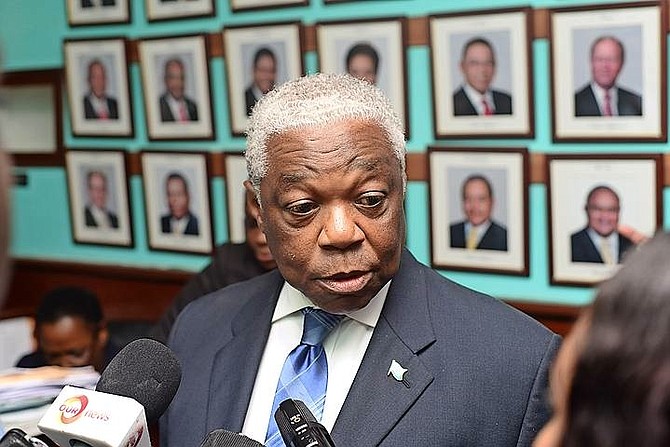 By RASHAD ROLLE
Tribune Staff Reporter
rrolle@tribunemedia.net
HOURS after police were called to the country's latest homicide scene, Minister of National Security Dr Bernard Nottage announced that overall crime is down 29 per cent compared to the first half of last year.
According to statistics he presented in the House of Assembly yesterday, from January 1, 2016 to June 14, 2016 murders fell by 22 per cent.
The figures show that 69 murders had been recorded by that time in 2015, compared to 54 as of June 14 this year.
However, yesterday morning's killing and a second at about 10pm last night pushed the murder count to 58 for the year compared to 71 killings as of June 20, 2015. This means murders are down 20 per cent compared to last year at this time, according to The Tribune's calculations. Last year, the country hit a homicide record, with police recording 146 murders in 2015.
Dr Nottage also said there has been a nine per cent decrease in attempted murder; a 15 per cent decrease in rape; a 38 per cent decrease in attempted rape; a 21 per cent decrease in armed robbery, and an 18 per cent decrease in robbery.
Crimes against the person that saw an increase in the specified period include manslaughter, which jumped by 100 per cent; unlawful sexual intercourse which rose by 10 per cent, and a 50 per cent increase in attempted robbery.
In the area of crimes against the property, he said there has also been a 48 per cent decrease in burglary; a 34 per cent decrease in housebreaking; an eight per cent decrease in shop-breaking; a 35 per cent decrease in stealing; a 39 per cent decrease in stealing from vehicles and a 17 per cent decrease in stolen vehicles.
"Overall crime has decreased from 2012 to 2015," Dr Nottage said, showing graphs that indicate crime has declined from 11,706 incidents in 2012 to 8,475 incidents in 2015.
The Bain Town & Grants Town MP stressed that the government still will not be satisfied until a much more dramatic reduction in violent crime occurs even as he released statistics that indicate crime is trending downward.
Dr Nottage has sometimes been described as tone-deaf for how he discusses crime trends, struggling, some say, to tread the line between admitting that violent crime remains one of the country's most significant problems and insisting that the ongoing strategies authorities are employing are having a positive affect on curbing crime levels.
He acknowledged yesterday the fear many Bahamians have about crime and he pledged to communicate more often with the public about police efforts to address the problem.
"Although a downward trend indicates our efforts are having an impact on crime overall, we are focused on addressing several categories of violent crime, particularly murders, rape and armed robberies," he said. "We mourn with the families of those that have been impacted by violent crime. We have not lost touch with the level of fear and frustration many Bahamians currently experience concerning the unacceptable level of crime in our nation. "And the public will be hearing from us more regularly now about crime trends and our efforts to address them and the impact of our responses."
He added: "A week ago when I indicated to a reporter who asked about crime that overall there was a decline in crime, members of the opposition took the opportunity in and out of this place to suggest that I was saying something that was unsympathetic to the crimes that are going on.
"Let me acknowledge as I did with the reporter that we are not satisfied with the results of the incidents of crimes, particularly serious crimes like homicides, like armed robberies, even though armed robberies are down. We are working diligently to bring crime down."
As Dr Nottage spoke, seated members of the opposition indicated that they were not satisfied with the government's efforts.
"Work a little harder," one said, adding: "One person just got shot in the head this morning."
The Progressive Liberal Party campaigned on crime at the 2012 election, drawing attention to "490 plus" murders in the five years under the Free National Movement government. Yesterday's fatal shooting off Market Street took the total of homicides in four years and a month under the Christie administration to 515.