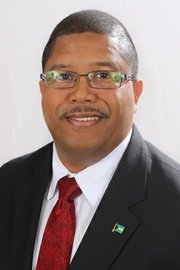 By NICO SCAVELLA
Tribune Staff Reporter
nscavella@tribunemedia.net
FREE National Movement Deputy Leader Peter Turnquest said he has "no worries or concerns" about being challenged for his position, claiming that his chief opponent does not currently "possess the skills that are paramount in need" to move the country forward.
Mr Turnquest, in an interview with The Tribune, dismissed assertions that the team of FNM Senator Dr Duane Sands and Long Island MP Loretta Butler-Turner could prove to be a challenge to him or FNM Leader Dr Hubert Minnis. Mr Turnquest said while both Mrs Butler-Turner and Dr Sands are "quality Bahamians" who both "have something to offer," the current leadership team is "more in line with what we need as a country and as a party to take us into the 2017 (general) election."
Mr Turnquest also suggested that the FNM's July convention will likely be repeat of the party's 2014 event.
At that convention, he beat out Dr Sands and former FNM Chairman Darron Cash.
Mrs Butler-Turner, the party's former deputy leader, lost by a wide margin to Dr Minnis.
Mr Turnquest was responding to an announcement from Dr Sands that he and Mrs Butler-Turner will run as a team to try and win the party's top two posts.
The pair finalised the decision on Saturday and informed Dr Minnis and Mr Turnquest of their intentions on Sunday.
"I have no worries or concerns about the challenge from (Mrs-Butler-Turner and Dr Sands)," Mr Turnquest told The Tribune. "I believe that we as a leadership team, Dr Minnis and I have good synergy, work well together, support one another, we share advice with one another, and I believe that when it comes to the future of this country, the vision for this country, that he and I share the same values, and that is simply that it is time now for the Bahamian people, rich, white, black, poor, to share in what this country has to offer.
"I don't take anything away from (Mrs Butler-Turner and Dr Sands), they are quality Bahamians, they have contributed to this country and no doubt they have much more to contribute. But at this time where we stand, the vision that (I and Dr Minnis) offer as a leadership team I believe is more in line with what we need as a country and as a party to take us into the 2017 (general) election."
He added: "We have a country with negative growth, we have a country with rising unemployment, we have a country with a significant debt that is continuing to rise despite what the government says, we have a country where taxes are burdening our people. It requires a certain amount of skill, it takes a certain amount of financial ability, insight, and with Dr Minnis' business experience, my financial experience, I believe we provide the perfect balance, the perfect combination to tackle the problems that are facing the country today."
Mr Turnquest also dismissed assertions by former Deputy Prime Minister Brent Symonette that recent polling revealed that Mrs Butler-Turner was more popular among voters than Dr Minnis.
"As I walk around this country with Dr Minnis, the support and the reaction has been tremendous," Mr Turnquest said. "Overwhelming. And so I don't know what music (Mr Symonette) is listening to, but I can tell you, the support from the average person on the street as he walks around in these communities has been overwhelming. Tremendously encouraging, tremendously supportive.
"And so I have no doubt that come 2016, 2017, whenever the (general) elections are called, that Dr Minnis is going to emerge as the prime minister of this country."
On Monday, Dr Minnis said he has no doubt that when his organisation convenes its highly anticipated convention he will remain the FNM's chief.
Following the morning session of the House of Assembly, Dr Minnis did not seem bothered by the news, expressing certainty and repeating his newly coined campaign slogan that everyone would "Roc wit doc."
If the event goes as Dr Minnis has confidently predicted, it will be the third time that he has been voted into the party's top post.