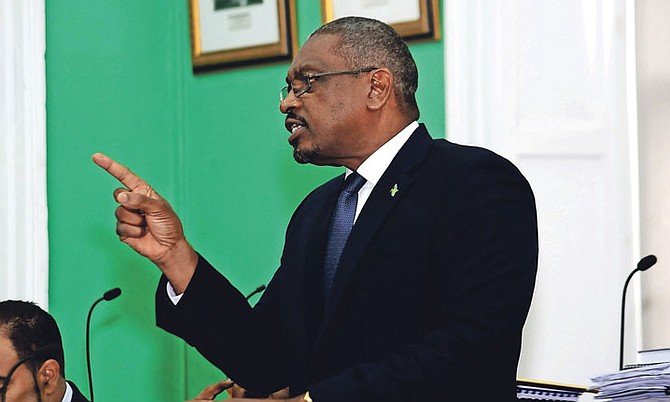 By RASHAD ROLLE
Tribune Staff Reporter
rrolle@tribunemedia.net
FNM Leader Dr Hubert Minnis yesterday accused National Security Minister Dr Bernard Nottage of hiding "behind statistics" rather than acknowledging the high rate of crime in the country.
During his budget contribution on Tuesday, Dr Nottage disclosed statistics that showed crime was down 29 per cent between January 1 to June 14 compared to the same period last year.
Nonetheless, Dr Nottage stressed that violent crime is still at unacceptably high levels in the country and that the government is not satisfied by downward trends.
His comments came hours after one man was shot dead in New Providence. Another man was killed Tuesday night.
Responding yesterday, Dr Minnis still criticised Dr Nottage for his approach to discussing the matter.
"The tragic irony is not lost on the Bahamian people that as Minister Nottage stood on the House floor proclaiming the crime rate is down, two more murders took place – one of which happened only a kilometre away from where he stood," he said.

"Bahamians in their homes, in their neighbourhoods and in their communities feel the growing grip of violent crime infecting their lives."
"Not a week ago, Minister Nottage was shrugging off a series of weekend murders as 'unusual' before the chorus of backlash from the people forced him to backtrack," he said, referring to criticism FNM parliamentarians made in the press about Dr Nottage's reaction to the killing of two men in Adderley Street last week and the murder of a church minister as he used a bank's ATM service.

"It's telling to Bahamians that this PLP government will throw around and hide behind statistics instead of acknowledging the reality of what is happening in our communities," Dr Minnis said. "Time and time again on issue after issue the PLP proves that you cannot fix a problem when you choose to ignore it."
"We at the FNM believe our people are more than numbers. Numbers can lie, as Minister Nottage's rosy outlook proves. The PLP should try to convince the mother who lost her son to murder or the young lady who was sexually assaulted on her way home from work that things are getting better.

"To the PLP those people are numbers, to the FNM they are tragic victims of a leaderless government that spends more time on rosy PR than on truly solving problems."
"We have a message for this government. Crime is literally killing our communities. We in the FNM believe every Bahamian life matters and we will fight and work every day to ensure our children, our mothers, our fathers don't continue to become tragic statistics."
Up to press time, the murder count for this year stood at 58.
As of June 21, 2015, 72 people had been murdered according to The Tribune's records. This represents a decrease of 19 per cent.