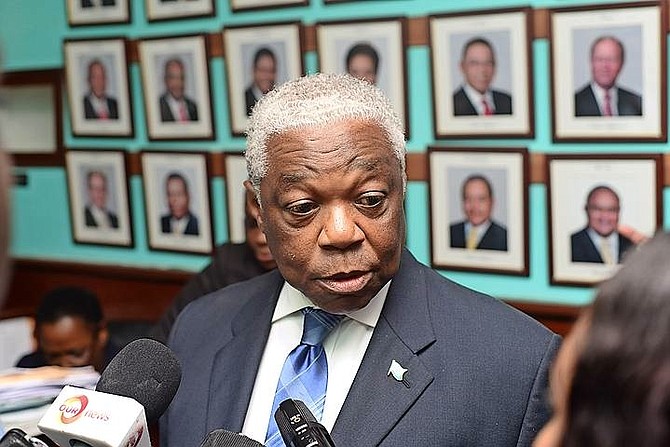 By RICARDO WELLS
Tribune Staff Reporter
rwells@tribunemedia.net
MORE youths are trying marijuana and becoming addicted to the substance, according to statistics compiled by the National Anti-Drug Secretariat (NADS).
National Security Minister Dr Bernard Nottage revealed the figures at the opening of an exhibition to commemorate International Day Against Drug Abuse and Illicit Trafficking at the Mall at Marathon on Friday.
Dr Nottage disclosed that statistical data compiled by NADS and the Detoxification Unit at the Sandliands Rehabilitation Centre suggest a steady rise in the number of people requiring needing treatment for substance abuse.
While insisting that local numbers are not on par with regional counterparts and other international countries, the Bain and Grants Town MP asserted that the government had not moved away from its belief that drug abuse is preventable and treatable.
According to statistics by the Bahamas Secondary Drug Prevalence Survey, marijuana has become the illicit drug of choice. Its use among school age minors, aged from 10 to 17, has increased.
Approximately 14 per cent of students tried marijuana in the last year and five per cent used marijuana in the past 30 days. Of that data bracket, those that tried marijuana continued using it regularly.
Dr Nottage said that cocaine and ecstasy use was less prevalent, but did not provide statistics to support that claim.
To date, the survey has been carried out nationally in 2002, 2008 and 2011. The next national survey will be carried out later this fall.
The government has, in recent years, increased the amount of programmes geared towards better monitoring substance behaviour among youth, Dr Nottage said. He indicated that this trend is alarming because drug use among minors often translates into addictions that carry over into adulthood.
According to Dr Nottage, trends observed of people seeking treatment for their addictions in the adult population show that alcohol abuse is the most prevalent, followed by marijuana. He said abuse of cocaine and ecstasy are less prevalent in comparison. He went on to note that there were a significant amount of 'poly' substance abusers, meaning that two or more drugs were used.
Statistics from the Detoxification Unit at Sandilands indicated that those seeking treatment in 2015 for alcohol made up just over 30 per cent of the total admissions. Marijuana abusers accounted for 14 per cent of admissions and cocaine abusers eight per cent. Poly drug users accounted for just over 40 per cent of total admissions for that period.
Recent statistics generated by the United Nations Office on Drugs and Crime show that on global scale, almost 200 million people abuse marijuana, just over 170 million abuse cocaine and almost 180 million abuse ecstasy. Specifically in the Caribbean, South and Central America the rrespective figures are about nine million, almost three million and just over 18 million.
Moreover, in 2013, drug related deaths on a global scale accounted for over 200,000 lives lost.
In 2012 the last Ingraham administration launched the government's National Anti Drug Strategy 2012-2016. The then Minister of National Security, Tommy Turnquest, said the plan would deal vigorously with the major challenges of drug abuse and illicit trafficking.
At the time he noted that action would be taken on all fronts, including demand and supply, treatment and rehabilitation, the criminal justice system, law enforcement, legislation, research and public information.
Meanwhile, on Friday, Dr Nottage implored those in attendance and others that would eventual hear his message to do more to encourage those around them to "push back" against illicit drug use.
He underscored that a life often lost to drug and alcohol use is often lost for good. The Ministry of National Security's NADS has taken a lead role in ensuring co-operation among government entities and NGOs.