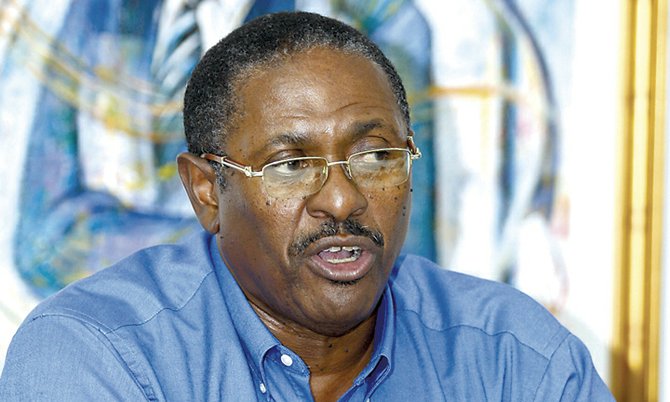 By SANCHESKA BROWN
Tribune Staff Reporter
sbrown@tribunemedia.net
BRADLEY Roberts has said it is unfair and "outright dishonest" to brand Bahamas Power and Light (BPL) "a failure because of rolling blackouts" when they have not "been given a chance to execute their plan".
Speaking at the Garden Hills monthly meeting on Thursday night, the Progressive Liberal Party (PLP) chairman said BPL is in the process of raising capital to upgrade the power generation plants and address the legacy debt.
Mr Roberts' comments came a week aft BPL announced "outage rotations" throughout New Providence as the corporation continued to grapple with "generation challenges" at its power stations.
In one of several statements BPL (formerly BEC) said customers would experience power outages in two-hour intervals "until further notice".
Two days later, a cable fault due to a generation issue caused an island wide blackout, with some parts of New Providence were without power for up to seven hours.
"In the face of the many attempts to vilify the Bahamas Power and Light and its new management team, I again endorse the policy decision of the Christie administration to identify a strategic partner to modernise via a five-year management contract and business plan involving renewable energy and self-generation," Mr Roberts said.
"Their mandate is to reduce the cost of electricity by 30 per cent in 24 months. It is not only unfair but outright dishonest to pronounce the BPL project a failure because of rolling blackouts when the new management has not been given a chance to execute their business plan; the ink is barely dry on the management agreement.
"In the interim, BPL has committed to securing 80 megawatts of temporary power to augment the existing capacity."
Mr Roberts also said he is "heartened" to hear that the government is in negotiations with BPL to forgive the debts of thousands of customers, mostly elderly and indigent Bahamians.
"This will restore dignity to and improve their quality of life. I congratulate the government for their compassionate liberalism," he said.
Earlier this month, Tall Pines MP Leslie Miller admonished the Christie administration for surrendering the day-to-day management of BPL to PowerSecure, insisting that the move could hurt the PLP in the next general election.
"And they say they 'believe in Bahamians'. The (management transition) was not necessary, the corporation is moving backward, but that's ok, God don't sleep. Election coming," he told The Tribune.
The move was also meet with contempt by former State Minister for the Environment, Phenton Neymour ,who suggested that the "Band-Aid like" fix has brought no resolution to the long-standing issues at the corporation.
Mr Neymour told The Tribune the government has intentionally misled the public on matters relating to BPL, despite knowing from the onset that the energy generation area of the corporation was operating on a "wing and a prayer".