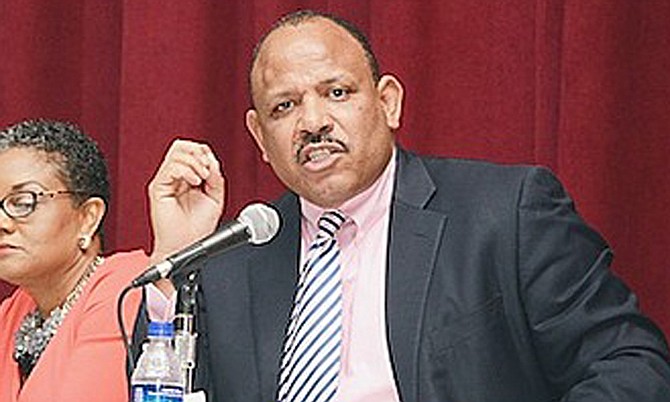 DUANE SANDS announced last night that he will resign from the Senate if Dr Hubert Minnis wins the leadership contest at next month's Free National Movement (FNM) convention.
Dr Sands - who was appointed to the Senate by the FNM's leader only last month - has said he is running for the post of deputy leader on a ticket with Loretta Butler-Turner, who will vie for leader, when the party elections take place at the end of July. They are challenging the incumbent leadership team of Dr Minnis and K Peter Turnquest.
Last night, he told a radio talk show that if the present leaders were victorious at the convention he would step down from the Senate.
Dr Sands, who replaced Lanisha Rolle when she resigned her Senate seat in mid-May after becoming embroiled in controversy over criticising fellow FNM MPs, said that his push to be deputy leader was started with the aim of uniting the party and advancing the best possible platform ahead of the 2017 general election.
On Sunday, he told The Tribune he was "amazed and confused" to be told that former Prime Minister Hubert Ingraham had said last week that he had recommended Dr Sands' appointment for the past four years. Dr Sands said the delay to appoint him to the upper chamber, despite countless calls by "respected persons" within the party, shows that the organisation's current leadership is not focused on putting the "best effort forward".
Sources in the party have suggested that the move to name Dr Sands to the Senate had been "tossed about" but was delayed for some time out of fear that appointing the surgeon would give him a stronger platform to challenge the current leadership duo at the party's upcoming convention.
One Central Council representative, speaking on the condition of anonymity, said the internal belief for several months has been that the party was doing what it could to push people "all on board with (Dr) Minnis)" while "slowing the advancement of all those that aren't a sure thing".
When asked about this, Dr Sands told The Tribune: "It is time we get beyond this. We in the FNM have a job before us. We have a government doing very little to improve our country. You have to keep their feet to the fire. You have to put the right persons in place to ensure that we can emerge victorious come election time.
"We have to do what is necessary to work as a team and that has always been my point when I have had any discussion with any and everyone associated with this great party. Personally, I don't have an issue with Dr Minnis or the Deputy Leader Peter Turnquest. From early on in this process I have held to the belief that skills - fundamentally sound individuals in specific areas - would have to play key roles in moving this party forward.
"If you look around, the bashing and criticising isn't being encouraged by this side. Personally, I don't think the FNM has had an effective team concept developed to this point. It could be because Dr Minnis sees some of us as challengers or however you describe it. But as a leader, it is your job to walk into the room and get everyone on the same page and moving in one direction."
In an email chain that was leaked in early May, Fort Charlotte MP Dr Andre Rollins urged Dr Minnis to remove Kwasi Thompson from the Senate and appoint Dr Sands in his place. According to the leaked emails, Long Island MP Mrs Butler-Turner, St Anne's MP Hubert Chipman and Montagu MP Richard Lightbourn all backed Dr Rollins' comments.
The FNM's convention is scheduled for July 27 to 29.