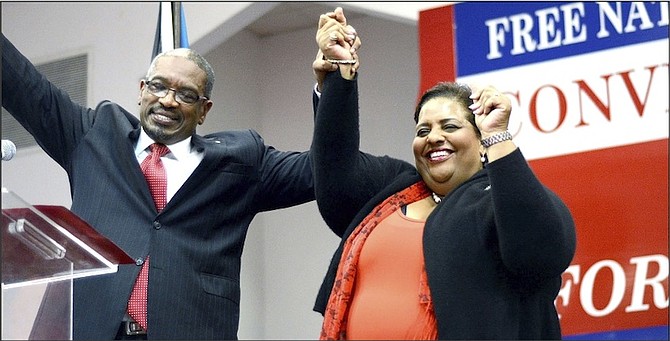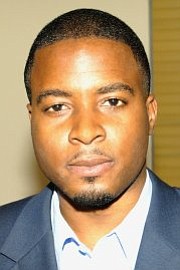 A Young Man's View
By ADRIAN GIBSON
Yet again, the Free National Movement (FNM) is engaging in politically cannibalistic behaviour that would see delegates once more flying from the Family Islands to New Providence to select a leader less than two years after re-electing Dr Hubert Minnis to the party's top post.
With Long Island MP Loretta Butler-Turner announcing her candidacy for the leadership of the FNM yesterday and quoting the late South African President Nelson Mandela to underscore how much she has learnt since her lost to Dr Minnis in November 2014, the race is on.
Recently, Dr Minnis and the council of the party agreed to move the November convention date forward to July 27 to 29 after six members of the FNM's ten-member parliamentary team threatened to petition Governor General Dame Marguerite Pindling to have Dr Minnis removed as leader of the Official Opposition unless an earlier convention was held. According to most accounts, St Anne's MP Hubert Chipman, Montagu MP Richard Lightbourn, North Eleuthera MP Theo Neilly, Central Grand Bahama MP Neko Grant, Mrs Butler-Turner and Fort Charlotte MP Dr Andre Rollins all drafted a letter to the Governor General to have Dr Minnis removed, however that letter was never sent.
Though Butler-Turner and newly minted Senator Dr Duane Sands have teamed up to challenge Dr Minnis and his deputy, East Grand Bahama MP Peter Turnquest, for a second run for the top posts in the party, it is clear that there is not a smorgasbord of viable contenders. As it stands, the FNM's political cupboard appears to be bare.
The spectre of the return of former Prime Minister Hubert Ingraham continues to loom. He has not endorsed either Minnis or Butler-Turner. Recently, he was asked by reporters if he would likely return and he asserted that if and when he has an announcement, he would make one. He did not emphasise that he was in retirement nor did he rule out a return. That statement has left many to speculate about his imminent return.
Frankly, Hubert Ingraham is the best Prime Minister that we have had. I grew up in the age of Ingraham. When Butler-Turner announced yesterday, many people watched to see if the former PM would endorse her or stand with her. He did not. After the press conference, one media official described the press conference as "dull". Another told me that it was "quite pedestrian" and "nothing out of the norm".
The fact that we have not heard from Ingraham leads one to believe that the former PM does not wish to rule out his return. In 2005, he showed that he can nominate at the eleventh hour and mount a successful campaign. Until and unless he publicly announces that he will not return, I'm of the view that it is likely, after all, he has yet to give his farewell speech in the House of Assembly. He resigned and the Progressive Liberal Party (PLP) refused to allow such an occasion to be on the House of Assembly's agenda. Former PM Sir Lynden Pindling gave his farewell speech. Current PM Perry Christie will likely have an opportunity to give his as well. Certainly, such thoughts must be running through Mr Ingraham's mind.
What's more, the governing PLP has performed so abysmally, the electorate is seeking a saviour. The infighting in the FNM does not engender the confidence of the masses. The Democratic National Alliance (DNA) has not yet garnered the trust, attention and support of the masses and the United Democratic Party (UDP) is viewed as a party of also-rans who won't get their deposit back.
FNMs have told me that they are unsure of whether Minnis or Butler-Turner can lead the country away from the economic, social and political precipice. Given that, there are many who are calling for Hubert Ingraham to return for one last hoorah. If Ingraham returns, Loretta Butler-Turner would likely drop out of the leadership showdown. The race would be between Minnis and Ingraham. That would be an historic face-off of epic proportions.
Notably, unlike the race between Mr Ingraham and former Mount Moriah MP Tommy Turnquest, Minnis has seemingly travelled the islands, engaged the associations and seemingly shifted them in his favour. That said, Ingraham is no Butler-Turner and he would likely recapture the imaginations of many, even those who currently support Dr Minnis.
As it stands, that is a hypothetical scenario. We shall see what happens in the coming weeks.
Whilst Rome (Bahamas) burns, the brouhaha within the FNM has been a distracting, entertaining sideshow that has allowed the governing party to run roughshod over the people. They have not been held accountable. Mr Christie and his band of hapless merry men must enjoy the free ride that they have had over the last few years. The Opposition is a dysfunctional entity that has poorly represented the interests of the Bahamian public. No doubt, if forensic audits are done, the instances of corruption, graft, nepotism, cronyism and downright thievery would be astounding. We, the people, deserve much better.
To some, Dr Minnis has failed as a leader. There are FNMs who tell me that they want to give Minnis a "swift political kick." There are others who have spun Minnis' slogan and coined their own phrases. Rodney Moncur, a prominent talk show host and Minnis detractor, has encouraged delegates to "throw Roc' at Doc." Moncur always states that he does not advocate violence and argues that he is referring to political rocks, the same "Roc" - he says - that Dr Minnis refers to.
Dr Minnis has been accused of being secretive, unco-operative, conniving, disrespectful, selfish, dismissive, inarticulate, suspicious and distrusting of his colleagues, being insular and petty. In the eyes of many, Minnis is seen as a hard worker who fought for the FNM in the trenches over the last few years and has been railroaded by Butler-Turner and crew.

One FNM told me that Dr Minnis has demonstrated that he is a generally insecure human being by publicly declaring his willingness to work as leader of the team but doing otherwise. I'm told that Minnis has been awkwardly uncomfortable around people with whom he is unfamiliar, retreating into the shadows of the wall as opposed to brightening up a room. I am told that at public functions, he adapts well to choreographed or orchestrated interactions but seems generally uncomfortable with spontaneous embraces and exchanges. According to my contact, Minnis has not yet learned the art of small talk and would prefer to say nothing than to broach any effort at conversation with strangers.
On the other hand, my contact argues that Minnis' strengths are that he is "cousin to the energiser bunny, seemingly able to go on and on and on within a doggedly determined approach to accomplish his personal desires". Indeed, Minnis appears to have the art of survival down pat and is seemingly coated with Teflon because as much debris as is thrown on his head, he is able to shake it off and move on as if nothing can or will stick. He is tactical and strategic. His greatest strength is that he is underestimated. He has generated fierce loyalty, even when the sycophantic allegiance might be counterproductive. Dr Minnis has been able to engender sympathy which, some of his detractors have argued, is inconsistent with his life's reality.
On the other hand, Loretta Butler-Turner is perceived by many as spiteful, haughty, pretentious, impetuous, somewhat vindictive and is overly emotive. She has been challenged by punctuality and has adopted the role of the victim far more often than she ought.
Mrs Butler-Turner has an inconsistent ability to generate support and affection; there are some that adore her and others who are put-off by her. There was a time when her personal appearance suggested phenomenal indiscipline; she has seemingly changed that impression.
That said, she is said to be an organiser and seemingly has the ability to think outside the box. She is resilient and seems to possess the capacity to re-engineer herself. What's more, she appears to command respect. She is articulate and she has an affable and personable presence, making her at ease in a crowd.
After the last convention, Minnis beat Butler-Turner by a margin of three to one. I will have to be convinced over the coming weeks about what has changed and/or what will be done to cause a different outcome this time around.
Civility is not likely to be the order of the day. We can see that already with their planned rollouts. Both campaigns plan to have their official launch next Wednesday. Dr Minnis will roll out his campaign in his boyhood home, Bain Town. Mrs Butler-Turner will roll out her campaign in Rawson Square, presumably in front of the statute statue of her late grandfather and first Governor General of the Bahamas, Sir Milo Butler.
However, the optics of both roll outs is notable. One will be cast as appeasing the Bay Street Boys, the so-called White Knights and elites of society, who Butler-Turner has been accused of being a willing surrogate. The other will be presented as a meeting of the masses, as one where Dr Minnis has come to the poor and downtrodden and cast himself as their servant.

The sympathy of the populace appears to be with Dr Minnis.
It's amazing how words can create a firestorm. Those who fault Dr Sands for choosing to be honourable and offer his senatorial resignation to Dr Minnis if the Butler-Turner/Sands team loses at the convention are simply unappreciative of the codes of Westminster governance. I think that that would be the noble thing to do. However, if Dr Minnis is successful, he should not accept Sands' resignation. Yes, Minnis should have full discretion given that Sands serves at his pleasure. It is the ethical approach to take. But, he should reject Sands' resignation. I applaud Dr Sands for showing local politicians how to be honourable! If only Mr Christie attended the same class.
The next four weeks will no doubt be superlative Bahamian political theatre. On the line are the political careers of many. Most significantly at stake is the viability of arguably one of the most progressive political movements in the history of the Bahamas. Admittedly, the FNM has had a hard time of late.
In the battle for the heart and soul of the FNM, there will be casualties and there will be victors. Have no doubt about it, FNMs are looking on and cringing. PLPs are watching and wishing that the catharsis that is ongoing in the FNM could take place in their own party. But, all see this as drama.
Not since the referendum has there been a topic that has singularly united Bahamians in conversation, in argument and in "punditology". Everyone is an expert and all claim to know how it will all turn out.
Yes, partisan party politics is the national pastime of the Bahamas. Through a newspaper or computer screen, a radio or a television set, people have a ringside seat to this national nirvana.
It is clear that only two can emerge victorious in both categories.
Earlier this year, the greatest boxer in the history of the universe passed to his glory. He is perhaps most remembered for his three fights with Joe Frazier. Their fight of the century was fought in 1971 at Madison Square Garden; the second in 1974 at Madison Square Garden and the 'Thrilla in Manila' in 1975. All acknowledge that the great Muhammad Ali was the greatest of all time. Only true boxing fans will acknowledge that at the first showdown he was beaten.
Since he was not invincible, one could surmise that Dr Minnis - as formidable as a political foe as he has been to date - can still be beaten. That said, I believe he does have the upper hand. Only time will tell.
Regardless of who emerges, process - this time - must be accepted.
Comments and responses to ajbahama@hotmail.com