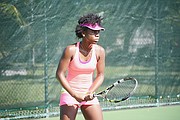 By BRENT STUBBS
Senior Sports Reporter
bstubbs@tribunemedia.net
AFTER an impressive junior career where she dominated on the local scene and held her own on the international circuit, Iesha Shepherd is now leaving the Bahamas and heading to the United States to pursue her professional tennis career.
Shepherd, the reigning number one under-18 female tennis player in the country, has her bags packed for her departure on Thursday for Charlotte, North Carolina, where she will enrol in the Johan Kriek Tennis Academy under the supervision of Jim Lavender, who was in town in December to run an ITF Tennis Clinic at the National Tennis Centre.
"I'm nervous and I'm excited at the same time because I'm going to be away from home, family and friends," Shepherd said. "But I really want to do it so I can further my ability and get some professional training at the same time.
"It's a chance for me to pursue my dreams (of playing professionally). If it happens, it happens. If it doesn't, at least I know that I tried it. So I don't want to have any regrets to say that I should have tried it and I didn't."
In preparation for the move, Shepherd had already withdrew from Queen's College and was enrolled in an online school at home. It's a similar situation she will find herself in when she goes to North Carolina, but she is up for the challenge, even more so, on the tennis court.
"Right now, I think my game needs a lot of improvement," she said. "Serena (Williams) is the greatest female player and she is always looking at ways to improve her game. I'm average, but I'm looking to be better than I am right now. I want to strive to be the best player that I can be."
Shepherd, who just turned 17 on Sunday, said she never envisioned herself taking this route.
"It never crossed my mind. I dreamt about it, but now that I have the chance, I want to take advantage of it," she stated. "I want to go big. I want to do my best when I go there. I'm going to go there and give it my all."
While she will be the only Bahamian in North Carolina when she gets there, she's expected to be joined by Joshua Turnquest, Justin Lunn and Philip Major in two weeks.
In April, the group, along with Jodi Turnquest, are expected to travel to Greece to play in a Futures Tennis Tournament.
"I want to at least make it to quarter-finals in my futures matches and so I'm going to have to put in a lot of work," Shepherd lamented. "This is not juniors anymore. This is women's tennis. I want to and I know I have to improve with every aspect of my game.
"Everything needs improvement. If I do that in futures, it will give me a lot of confidence because after futures, it's the challenges, then the masters and then the majors. Even if I don't get there, at least I know that I tried my hardest. That's my goal."
Whether or not the pro ranks is in her cards right away, Shepherd said she would definitely like to go to college on a tennis scholarship and gain some experience playing at that level and, at the same time, concentrate on getting her degree in a major she's yet to pinpoint.
"I want to go to college and get my education. That is important to me," Shepherd said.
"If I can play pro ball as well, I will try it. But I want to concentrate on my education first before I really get into the professional ranks."
Her mother Vernita Ellis, who along with her dad have attended just about every match she's played locally, said their daughter will be missed, but they realise that she has to move on.
"I wish she didn't have to go, but it's something that she really wants to do," Ellis said.
"But whatever she does, I want her to make sure that she gets her education. That is what I've been pushing with her from the time she started playing tennis. I don't want her to lose focus of that.
"I just want her to go there, focus on what she went there for and that is to train, but at the same time get her school work done. She can always look ahead to playing tennis, but she really needs to make sure that she stays focused in her school work. That would make me very happy. But I know she will make us proud with whatever she does on the tennis court."
As a mother, Ellis said she has always been proud of her daughter's accomplishments and she will continue to support her in all of her future endeavours.
Shepherd said she's a little scared about making the move, but she's delighted that she can take advantage of it right now.