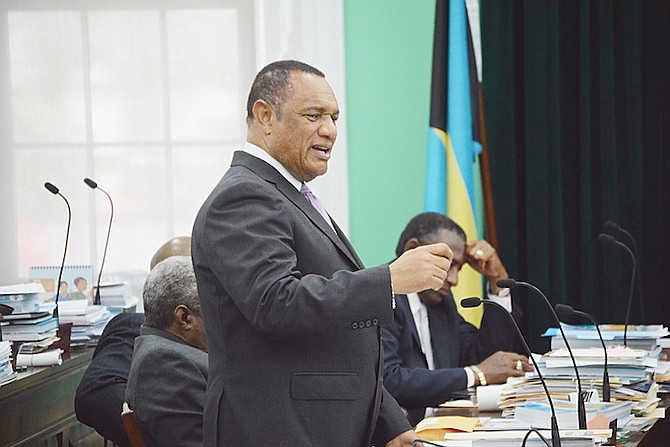 By DENISE MAYCOCK
Tribune Freeport Reporter
dmaycock@tribunemedia.net
PRIME Minister Perry Christie said all parliamentarians will vote today on the four constitutional bills regarding gender equality in The Bahamas that is before the House of Assembly, vowing that it will be "a historic day".
While meeting with religious leaders in Grand Bahama yesterday afternoon, Mr Christie said: "I say that tomorrow, one way or the other, would be a historic day in the Commonwealth of The Bahamas … The bills will be presented to Parliament for all parliamentarians to vote."
In order for the bills to move from the House of Assembly to the Senate, three quarters of 38 elected parliamentarians must vote yes.
"There is no equivocation, people will be asked to vote; a vote will be taken and if we receive the number it would go the Senate for ratification," he told a group of leaders at Pelican Bay Resort.
Mr Christie said he decided to arrange a meeting with local pastors and members of religious organisations to provide consultation and some clarification with respect to the amendment of four constitutional bills regarding gender equality.
With Glenys Hanna Martin, who seconded the bill, Mr Christie brought representatives of the Constitutional Commission with them - Justice Rubyann Nottage and Brandis Duncanson - to explain the four bills. After nearly three hours, many of the religious leaders came out of the meeting satisfied and with a better understanding of the bills, which they had previously considered controversial, especially bills two and four.
"It was an extension of the government's regard for the Church to demonstrate its unanimity - that is both of us with respect to the approach of the four bills before the Parliament," Mr Christie said. "It is intention on the part of those us who are supporting the bills to ensure that the courtesy that the Church should receive from the government by way of consultation continues. We have brought representatives from the commission whose entire purpose has been public education and not partiality, not taking sides."
The Prime Minister had also invited Leader of the Opposition Dr Hubert Minnis and his Free National Movement party to be part of the meeting. "He (Dr Minnis) deeply regrets by his expression not being able to be here because he set a meeting with his parliamentary group at 4pm, prior to us going to Parliament," he said.
After the meeting, Minister Mary Russell, Assistant secretary of the Grand Bahama Christian Council (GBCC), said she was pleased that the constitutional commission was able to clarify bill four. "I am very pleased … I want to make sure that that there would not be any provisions in the Bahamas Constitution for same sex marriage," she said.
Minister Rita Stuart, of the GBCC, agreed. "We need to see something in the Constitution to prevent same sex marriages in the Bahamas because the Word of God tells us it is an abomination, and I hope that as a country The Bahamas never ever in my lifetime and my children's children's lifetime stoop that low where we can have same sex marriage in the Bahamas."
Apostle Anthony Grant said he supports the four bills. "I believe we can vote yes on all four bills because they covered everything sufficiently and removed our concerns," he said, adding that one of his daughters is married to a foreigner and they have a child and so he supports bill two as well. "That is important to me that we have a level playing field."
Mr Grant said they were told that the word sex, which meant a female or male, was not making reference to male and male or female and female.
"A man and woman is what is natural; the two were designed to come together and the Bible supports that. It says be fruitful and multiply. Man and man or woman and woman cannot sustain the human race," he explained.
The GBCC President, Rev Peter Pinder, said that commission was able to allay the fears of local religious leaders. "I believe the discussion was quite helpful. The fears of many have been allayed with the explanation given today. With emphasis on equality between men and women in terms of rights, I think it is a very good thing."
Rev Pinder said he it was very thoughtful of the Prime Minister to come to Grand Bahama and meet with the religious community. "We, a good number of us, had concerns and fear of same sex marriage but, because it has been dealt with and addressed, we are satisfied that it is not something we should be concerned about any more."