Photo Gallery
JUNKANOO WINNERS PRESENTATION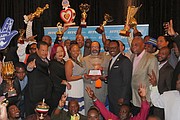 THE coveted trophies for the Boxing Day and New Year's Day Junkanoo Parades were presented to the champions and division winners at the weekend.
The Junkanoo Corporation of New Providence (JCNP) and Junkanoo's presenting sponsor BTC hosted a banquet to award the parade champions, The Valley Boys, and the winners of the various categories with their prizes.
JCNP also presented BTC with an award for their years of loyal support. BTC is now in the last year of a five-year contract with the JCNP, having pledged $850,000 in 2011 to the nation's most colourful native display, the annual Junkanoo parades. BTC is an avid promoter of Bahamian cultural and sporting events having also supported Bahamas Junkanoo Carnival and the BTC IAAF World Relays in 2015, and having sponsored CARIFTA Track and Field and Swimming teams on multi-year contracts, amongst other charitable and cultural commitments.

Silbert Ferguson, president of the JCNP, said that the organisation is very grateful for BTC's support.
"When BTC came on board in 2011 they brought a level of stability for us. They have been an incredible boost in making the parades a success thus far and we hope that this continues as we work to get Junkanoo back to the level it needs to be."



More like this story