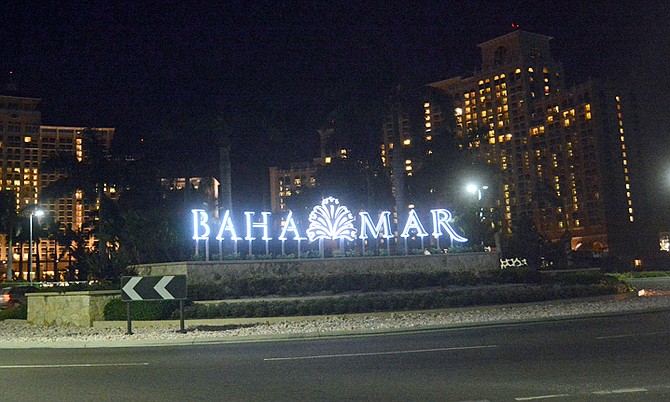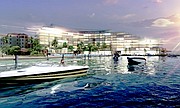 By RASHAD ROLLE
Tribune Staff Reporter
rrolle@tribunemedia.net
BAHA Mar's former President Tom Dunlap has hit out at China Construction America (CCA), accusing the company's Senior Vice President Daniel Liu of being a part of an organisation that gave little attention to Baha Mar.
Mr Dunlap also alleged that CCA deceived Baha Mar officials, further alleging that The Pointe may be using equipment that was contracted for the stalled Cable Beach mega-resort.
His views, in a letter published today in The Tribune, came days after Mr Liu said that the greatest difference between Baha Mar and The Pointe is that as there is no shortage of money to fund construction the latter will be completed on time.
CCA, which is developing The Pointe, served as Baha Mar's general contractor before the West Bay Street property filed for Chapter 11 bankruptcy protection in a US court last June. Since then, Baha Mar has accused CCA of performing sub-par work that caused the development to miss opening targets.
Last week, Mr Liu said The Pointe will embrace Bahamians and not be "some private development that tries to keep the people away from the beach or tries to make it their own territory for their own ego."
"There is no short of the money," Mr Liu said at a media reception at The Pointe's newest restaurant, Summer Palace, on Wednesday. "It will be done on time."
Mr Dunlap responded by saying he was "flabbergasted at the outrageous and inaccurate reference by Mr Liu to Baha Mar as 'some private development".
Mr Dunlap said in his letter: "Had Mr Liu spent more of the time that Baha Mar paid for him to spend on our project instead of gallivanting about the Caribbean looking for new projects, he would realise that Baha Mar is very public.
"With over 40 restaurants, clubs and retail shops, it was for all to use ... including the very golf course that CCA was busy playing the days of the missed opening while we were hunkered down trying to address the catastrophe of their failure to meet the opening date. I would expect The Pointe to be on time. CCA has enjoyed a head start, having started construction before receiving building permits."
Last October, The Tribune reported that the Ministry of Works' Buildings Control Division issued a stop order after a site visit at The Pointe revealed that construction had progressed further than the permits issued for ground preparation allowed.
"Just (last) week CCA proudly shared that they are close to finishing their Environmental Impact Statement. They must be sure that it is going to be approved. There is a lot of construction to remove if it is not," said Mr Dunlap.
Mr Dunlap alleged that The Pointe appears to be using the same construction equipment that Baha Mar paid for and had shipped from China. "This significant head start and apparent free equipment and supplies will help assure an on time, on budget 2017 completion," he alleged. "A little free material and equipment goes a long way."
Leslie Pindling, director of external affairs for The Pointe, on Wednesday said the property is adhering to the heads of agreement signed with the government which allowed for 70 per cent Bahamian workers and 30 per cent Chinese.
However, last Monday, he told reporters that the agreement called for 60 per cent Chinese workers and 40 per cent Bahamians, but only during the development's superstructure phase or start-up construction.
Sceptical of this, Mr Dunlap called on the company to be more specific about who it has hired and when it has done so. "Show us the work permits," he said. "By now I must believe that the people of the Bahamas are tired of reading about the numbers of Chinese workers. One day it is 60 per cent Chinese workers ... a few days later it is 70 per cent Bahamian workers. Stop insulting the collective intelligence of the public. CCA knows how many total workers are required for the project, how many Chinese workers have already been engaged over the course for the project and how many more CCA wishes to bring, how many work permits have been obtained and how many are allowed, and what subcontractors are doing what work with what labour.
"Why can't CCA just reveal those facts, for the total arc of the project, not just the percentages on any given day or skewed to look good? Baha Mar lived with this 'coconut and pea' game by CCA for four years."
"CCA (allegedly) deceived us and the government, abandoned Baha Mar without a hint or warning, and did not, could not and have not finished their job. One year later, even with the obligation of two completion guarantees, they have ignored their responsibility," Mr Dunlap added.
"We can only hope that CCA will do a good job completing The Pointe and not leave another mess at the gateway to Nassau."
The war of words highlights the bad blood that continues to exist between the two parties, even as developer Sarkis Izmirlian expressed interest in returning to the negotiating table to discuss Baha Mar's future with the government.
CCA broke ground on The Pointe development by the British Colonial Hilton in August 2015 while engaged in a dispute with Baha Mar over the stalled $3.5bn Cable Beach project.
Scheduled for a 2017 launch, the Bay Street project is expected to provide some 500 jobs within the 200-room entertainment hotel, oceanfront residences and 80-slip marina. The development will also have a 1,000-car garage, a bowling alley and movie theatre.
See Letters to the Editor, page four