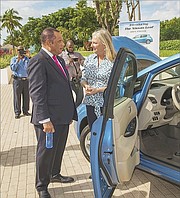 OWNERS of a Nassau car dealership who have invested in electric vehicles have received a boost with a prediction by Bloomberg News that the 2020s will be the decade of the electric car and nearly half the new vehicles in the world would have a plug by 2040.
"The story and video, which got huge play on Bloomberg, confirmed what we have believed since we first started investigating electric cars as the vehicle of the future," said Pia Farmer. Along with her husband John, Mrs Farmer has led the way in championing the e-vehicle, declaring it should succeed for all the right reasons.
"Electric cars are better for the environment in two ways. First, what powers them is a battery instead of fossil fuels, and secondly, their impact on air quality," she said.
"We know, too, that the e-car is much easier and cheaper to maintain, it doesn't have a thousand parts that other cars need to run, making the e-car desirable for the pocket, as well as the environment. But the reality is that long-standing habits do not change easily so this story by Bloomberg was really very welcome as an eye-opener for many readers."
The article - published by respected news agency Bloomberg - claims that the steadily declining price of batteries along with the glut of oil that will stifle production due to low prices, is driving the industry to develop "faster, safer, cheaper" electric vehicles. It pointed to major investment in research and design by electric car leaders Tesla, Nissan and Chevy.
Easy Car Sales on Gladstone Road is importing the Nissan LEAF, the best-selling electric car with more than 200,000 on roads worldwide, and bringing in slightly used models to keep the price tag down to $20,000.
According to the Bloomberg piece, battery prices fell 35 per cent in 2015 and car manufacturers are developing systems for longer range driving between charges. The Nissan Leaf available in The Bahamas features a driving range of 80 to 100 miles between charges with New Providence's traffic boosting the range with stop and go battery energy generation.    
"When that article stated 'It's looking like the 2020s will be the decade of the electric car,' and that nearly half the vehicles would be electric by 2040 we felt that everything we have been saying about how electric vehicles are environmentally friendly, a pleasure to drive and financially attractive was confirmed," said Mrs Farmer.
"The one thing that I think the public does not fully appreciate yet is how luxurious these vehicles are. We are not talking about a golf cart. We want people to know that the Leaf is comfortable, roomy, has all the bells and whistles including Bluetooth technology and a Bose sound system.
"And can you imagine if everyone drove electric vehicles, buses and trucks, how quiet and clean the streets would be? Driving could actually some day have a calming effect on the culture of the country."