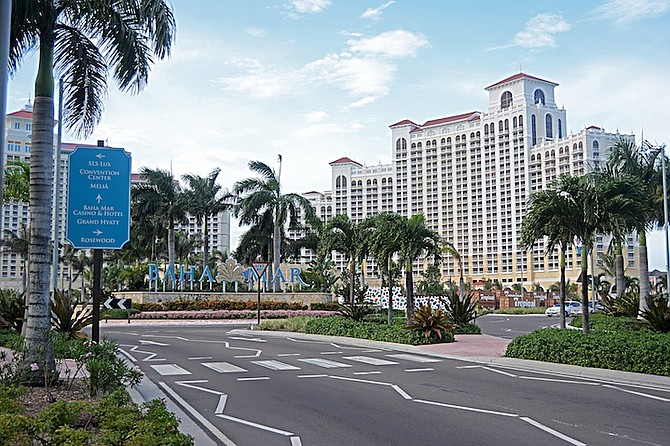 By RASHAD ROLLE
Tribune Staff Reporter
rrolle@tribunemedia.net
PRIME Minister Perry Christie gave no indication yesterday when Baha Mar will finally remobilise and open, stressing instead that the issue is "extremely complicated."
"Make no mistake about it," he said during his mid-year budget communication in the House of Assembly. "We are dealing with an extremely complicated situation that involves among others the previous developer, (the Export-Import Bank of China), the general contractor, China State Construction Engineering Company (CSCEC), various hotel and casino operators, subcontractors and suppliers, retailers and concessioners, unsecured creditors, terminated employees, potential investors, the provisional liquidators and receiver managers, as well as the interests of the Bahamas government and the People's Republic of China."
Baha Mar has proven to be a huge test for the Christie administration. Although it is a private project, government officials haven't shied away from promising a positive ending to the debacle, with Mr Christie frequently telling reporters last year that a resolution will come "soon."
He noted yesterday that the growth rate projection for the country was reduced last year because of the failure of Baha Mar to open.
"The Ministry of Finance and the International Monetary Fund (IMF) now estimate that our economy grew by just over 1 per cent in 2015 as compared to the projected 2.3 per cent in the May budget communication," he said. "Besides the impact of more moderate growth in our major trading partners, this more muted performance of our economy, of course, also reflected the delayed completion and opening of the Baha Mar resort project."
Mr Christie said local subcontractors have been hired to complete Baha Mar's convention centre, which he hopes will ready to accommodate the 2016 Inter-American Development Bank's (IDB) meeting next month.
"With regard to full remobilisation arrangements, I am informed that intensive discussions are taking place between China Exim Bank and CSCEC on the detailed plans of remobilisation," he said.
"Although some progress has been made, there are still some issues left to be resolved. In addition, the final agreement between China Exim Bank and CSEC will have to go through internal procedures and obtain approval from regulatory authorities of both parties. Once the full remobilisation arrangement is approved, CSCEC will be responsible for working out the construction timetable and plan, and by then China Exim Bank will be able to update the Bahamian government about the remobilisation timetable and construction plan. The process of securing major investors/operators is underway and several substantial groups have already been introduced to the government while the process gathers pace."
Nonetheless, Free National Movement (FNM) members yesterday placed the blame for the Baha Mar debacle partly on the Christie administration, stressing that sidelining developer Sarkis Izmirlian was a flawed move.
FNM Leader Dr Hubert Minnis said Bahamians should be allowed to invest in the project to ensure its completion.
"I'm a bit concerned because in December of last year, China Harbour Engineering Construction Company (CHECC) loaned $50m to the project," Dr Minnis said. "According to the Nassau dailies, they had gotten what we call preferential loan financing, meaning their loan was safe and would be the first to be repaid. It seems to me that Bahamians and other investors, pension funds, etc, could be utilised to complete the project provided they too are treated like the CHECC with preferential loan financing, meaning that the monies they invest would be safe, would be the first to be repaid, new money before old money and at whatever rate negotiated. That would allow Bahamians to invest and complete the project. I'm certain that this being Izmirlian's dream, he too would invest to complete it. Bahamians would then be part owner in the project."
Baha Mar was expected to open in December 2014.
The property is currently in receivership.