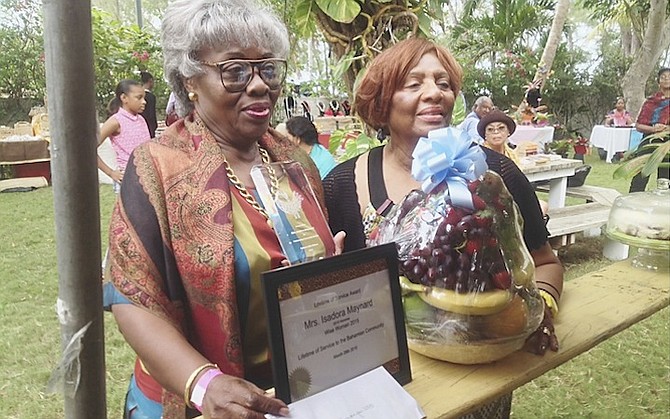 By ALESHA CADET
Tribune Features Reporter
acadet@tribunemedia.net
THIS Saturday, a dynamic group of ladies known as the Wise Women Committee will host the organisation's third annual festival to showcase the talents and gifts of Bahamian women in entrepreneurial fields.
The festival was founded by writer Cheryl Albury as a way to celebrate, empower and inspire women of all ages in body, mind, and spirit. The event was first held March 2014 and again in 2015.
Each time, artisans were invited to display their crafts and food. Speakers were also invited to share their knowledge and skills with the festival's patrons.
A major highlight of the festival is the selection of Wise Women honorees. In 2014, this honour was given to Frances Ledee and in 2015 to Isadora Maynard. Honorees are selected by the planning committee and are women who significantly contributed to the Bahamian community.
This year, the one-day event will once again feature booths by female entrepreneurs, including food, drinks, desserts, crafts and fashion options. It will take place at a private residence in Yamacraw, beginning 12noon.
Vendors will include local artists like Origins Bahamas, Brom Lady, Tina Louise Collection, Handle It Needle Work, AMDx Designs, Beagard Land and Sea Designs, Berea Straw and Shell Craft, Keni No Boshi Fashionators, Pinder's Pastries, Pop Stop Bahamian Gourmet, Khairos Co, Chef Gerald's Choice, and more.
Patrons can also look forward to empowerment speakers to touch on topics such as fitness, culture and spirituality. There will be demonstrations by Outdoor Fitness Bahamas, historian Dr Gail Saunders, culture and Junkanoo icon Arlene Nash Ferguson, and Renee McKay, who will speak on the topic of National Health Insurance.
On the glamorous side of things, there will also be fashion show hosted by Gillian Curry-Williams' Remilda Rose Designs, and a makeup demonstration by Eye Candy.
A comedic performance will be put on by Jessie Pearl, followed by the main feature: the presentation of the Wise Woman award.
Planning committee member Simmone Bowe said the ladies are expecting the festival to be even bigger and better this year, as the committee expanded its promotional strategy to increase awareness and visibility in the wider community of women in New Providence.
"This event is important for Bahamian women because they can come to a relaxed atmosphere, interact with each other, support each other, learn from each other and inspire each other to be and do more in their lives and their families, careers and communities," said Simmone.
She said Ms Albury sees the event as a way to uplift and assist women to be their best selves and to also honour those who are doing great acts of service in their communities. Drawing on the expertise of the diverse members of the planning committee, she said Ms Albury was able to spearhead the effort successfully over the last three years so that women can be inspired and empowered.
As the event continues to grow year after year, she said they hope that the Wise Women Festival will continue to reach multiple generations of women.
"As a member of the planning committee, I am looking forward to the event's success; to great weather and a beautiful day of information, inspiration, support and celebration," said Simmone.
Admission is $2 and all proceeds will go to the Persis Rodgers Home for the Aged. Event information and inquiries are readily available via the Wise Women Festival Facebook page and by e-mailing wisewomen242@gmail.com.