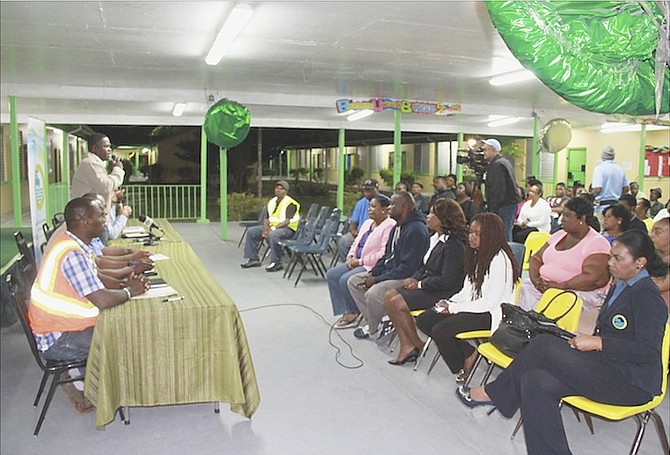 By NICO SCAVELLA
Tribune Staff Reporter
nscavella@tribunemedia.net
OFFICIALS are now "finalising" the costing of a multi-million dollar initiative to alleviate the flooding issues in the Pinewood constituency before the project goes out to bid, Pinewood MP Khaalis Rolle said yesterday.
Mr Rolle, minister of state for investments, said the government is in possession of the initial estimate for the plan. He added that officials are now "refining" all of the information they have before putting it out to tender. However, he could not say when the project will commence.
Mr Rolle also said that the government, via the Water and Sewage Corporation (WSC), is seeking to install new water mains for residents in some sections of Pinewood, who he said for years have had to depend on well water.
He spoke to The Tribune ahead of a neighbourhood meeting scheduled for last night on the water main installation.
In late 2014, Cabinet approved an $8m project to alleviate the flooding issues in Pinewood. The work scheduled to be done will include the southern corridor of New Providence, including South Beach, parts of Kennedy Subdivision and Bamboo Town.
Florida-based Coastal Systems International is the government's consultant for the project.
In February of last year, Mr Rolle reportedly said that the government and private sector engineers were together completing the technical aspects of the project. At the time, he said technical details and a scope of works had yet to be completed.
"It's coming along," he told The Tribune yesterday. "We've been meeting regularly on it. It's just refining all of the drawings and finalising all of the costing, and we've had several meetings in that regard.
"We've got the initial estimate, and they're just refining all of the information they have in order to get the project out to bid."
Mr Rolle also said the government is seeking to install water mains in a specific section of the Pinewood constituency that has been without government water for a "number of years".
Mr Rolle said the work would affect persons residing on Wild Guava Ave; Guinep Tree Street; Sugar Apple Street; Rose Wood St; Bread Fruit St; Mahogany St; Cascarilla St; Cottonwood St; Jacaranda St; and Sapodilla Blvd.
The work will commence on March 14 and end in November, according to a flier sent to The Tribune by Mr Rolle.
"This is an issue that has been plaguing a section of Pinewood for a number of years where they never got water; they were using well water.
"And an area that is as densely populated as Pinewood, that is not the most healthy solution. So now the Water and Sewerage Corporation is about to put in the water mains to allow for the supply for water to that section of Pinewood. Not the entire Pinewood, it's just that middle section."