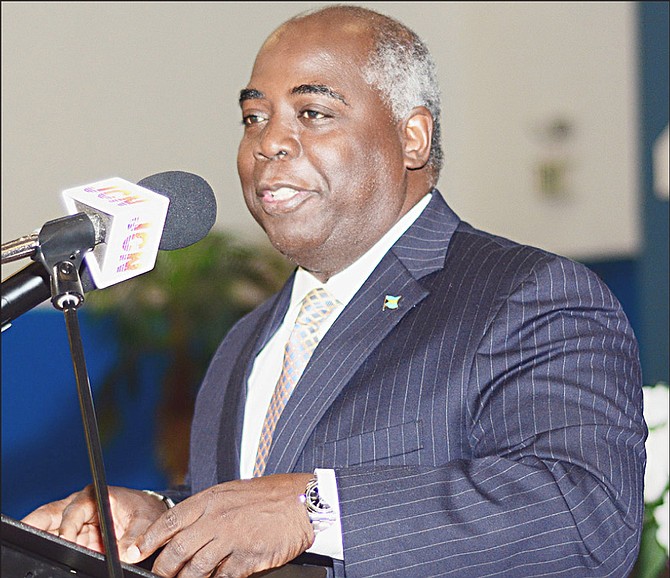 By AVA TURNQUEST
Tribune Chief Reporter
aturnquest@tribunemedia.net
CRIMINALS, allegedly hired by Canadian fashion mogul Peter Nygard, were sent to him by Deputy Prime Minister Philip "Brave" Davis to protect the billionaire's local interests as a major campaign backer of the Progressive Liberal Party, according to court documents.
In covert video recordings purported to be discussions between Mr Nygard, Livingston "Toggie" Bullard and Wisler "Bobo" Davilma, both parties refer extensively to the support of Mr Davis.
The five videos are part of a string of allegations detailed in court documents as the findings of an investigation paid for by Save The Bays, among whose directors are Louis Bacon billionaire hedgefund manager and Lyford Cay resident, and attorney Fred Smith, into the claims of Bullard and Davilma that Mr Nygard paid them to harass the organisation and commit criminal acts.
Bullard and Davilma claim that they were told by Mr Davis to support Mr Nygard unconditionally as a major "sponsor" – a premise that Mr Nygard accepts as he expresses his frustration over his inability to obtain necessary legal permits and a lease to build on government property.
On the sidelines of an agricultural expo yesterday, Mr Davis confirmed to The Tribune that he had known both Bullard and Davilma since 2010, but said he was unaware of the allegations. "I know the individuals identified in the story and I have known them from at least 2010 or thereabouts," he said. "It depends on what you define as close relations. I know nothing about it [allegations]," he added, "and from what I read this matter is in the court and it wouldn't be appropriate for me to comment on it."
In the first recorded meeting with Mr Nygard on May 10, 2015, Bullard said: "See, what Brave told us, is that we have to get your back because you's the sponsor and we's the muscle, you understand?" "Yeah," Mr Nygard replied
Bullard continues: "So that's what Brave tell us, so if these guys f with you chief, I will fin deal with them, trust me. I don't care what the consequences is, I will deal with them, you understand? Because you have our back and you have Brave back, I know Brave is the man for us, right? For everybody."
In the May 10 video, Mr Nygard tells the men of his plans to meet with Mr Davis over the PLP's leadership. He said: "I've got a meeting with the deputy PM as well and see what the hell he's doing because the PM is f*ing up the deputy PM's fing future, you see." Mr Nygard continued: "Even if he decides not to run anymore, and that's what he said, it's Brave who is going to get sacrificed here, and Brave fin well knows it."
Two days later the men record another video with Mr Nygard, purportedly taken after the fashion mogul had met with Mr Davis. Bullard said: "See the PM and the DPM they tell us up straight, they talk to us straight up. Nygard is a big sponsor to us and you guys is the man on the street ... I tell him I say if Nygard go automatic he lose election. He knows that."
Mr Nygard replied that he was close to leaving the country because he decided to take his stem cell medical centre to St Kitts, adding that he had "pissed away" $5m since the Prime Minister got him involved. Mr Nygard said: "I think we're all united in an issue that puts huge pressure on PM now from every f*ing Cabinet minister, from Gibson, Shane, you guys, everybody."
He added: "Without you guys and me they lose the election as you have control of the field and I have control over the finances you know."
Save The Bays directors Joseph Darville, Romauld Ferreira, Mr Smith and Mr Bacon and Reverend CB Moss filed a writ in the Supreme Court against Mr Nygard and lawyer Keod Smith on Wednesday. They allege that the defendants orchestrated a two-and-a-half-year campaign of fear and violence to "kill or scare off" activists he saw as opponents to development plans for his Lyford Cay property. According to the court documents, the plaintiffs compensated Bullard and Davilma for being whistleblowers in exposing Mr Nygard's alleged criminal activities.