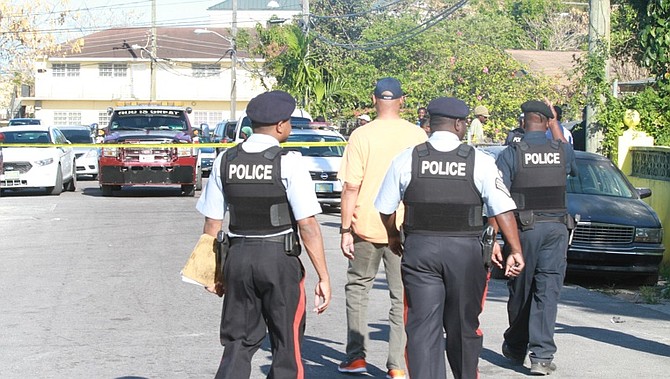 By RICARDO WELLS
Tribune Staff Reporter
rwells@tribunemedia.net
POLICE are investigating the circumstances behind two separate shooting incidents over the weekend that have left two males – a 17-year-old high school student and an adult on bail for murder – dead.
Police responding to reports of gunfire around 3pm yesterday on Wentworth Street in the Ridgeland Park West area discovered the body of a man in a Pontiac car suffering from an apparent gunshot wound to the head.
He had been approached by two men with handguns and shot before the suspects fled on foot.
Assistant Police Commissioner Stephen Dean told reporters at the scene that while police were not able to identify the victim, officers were "canvassing the area" for leads in the matter.
The Tribune understands the victim is Melbourne "Snatcher" Bain, a man known to police and on bail for murder, for which he was being electronically monitored.
His murder pushes the country's murder toll to 25 for the year, according to The Tribune's records.
The shooting death came 36 hours after officers were called to the Flamingo Gardens area where a young man had been shot in his body. They found the lifeless body of a teenager who police have yet to identify, but The Tribune understands to be 17-year-old Stephan "Balla" Horton.
According to reports, the 12th grade student of C C Sweeting High School was walking on Hyatt Drive around 9pm on Friday when a man with a handgun in a grey van approached and shot him before speeding off. He was pronounced dead on the scene.
The death of the teenager prompted a statement by Ministry of Education, Science and Technology (MOEST) yesterday, in which officials offered condolences to the victim's family, loved ones and school officials.
MOEST officials said they were concerned for the wellbeing and safety of all students in the wake of the Friday's killing, which followed the violent death of another high school student around 8 o'clock that morning.
In that incident 16-year-old Government High School student, Mizilana Beauchamp, was hit in her head by a rock thrown by students as she rode the bus on Carmichael Road to school.
"We are beyond dismayed by the series of tragic events that occurred within 24 hours of each other. We reflect on all the students we have lost to crime and violence and we strongly appeal to all citizens to come together to put an end to the scourge of violence that is claiming the lives of so many of our young people," yesterday's MOEST statement added.
Despite the two homicides ACP Dean said police had a "very successful weekend."
He said that police were able to take a number of firearms off the street,adding that weapons have been a major issue for officers in their fight against crime.
Reports are that shortly after 10.30am, officers from the Mobile Division were on routine patrol on Poinciana Drive when they spotted a heavily-tinted silver coloured Honda Accord, which was being sought by the police.
The officers signalled to the vehicle to stop but the occupants refused and sped off. The officers pursued the vehicle to the intersection of Columbus Avenue and Infant View Road, where it lost control and came to a stop in nearby bushes.
Three men fled from the vehicle on foot and two were taken into custody following a short chase.
The officers conducted a search of the suspect's vehicle and found an AK-47 assault rifle with a magazine containing 29 live rounds of ammunition. Police are searching for the third suspect.
"(Sunday) morning we were able to take a high-powered weapon off the street, an AK-47 assault weapon with over 20 rounds. What is significant about this, is that we can tell you, had we not taken this weapon off the street that would have been 20 plus persons who could have been killed as a result," added ACP Dean.
A male Correction Officer from the Bahamas Department of Corrections and a woman were taken into custody yesterday after they were arrested for possession of marijuana shortly after 4.30pm.
This weekend's efforts come as a part of the Commissioner of Police's 2016 crime fighting strategy, a scheme ACP Dean said continues to yield tremendous results.