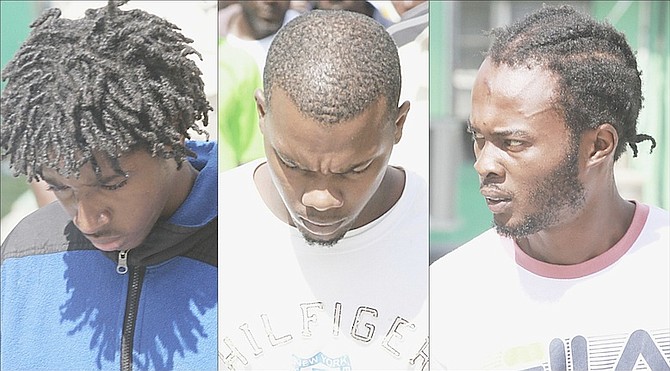 By LAMECH JOHNSON
Tribune Staff Reporter
ljohnson@tribunemedia.net
THREE men were remanded to prison yesterday after they were arraigned in connection with the recent murder of a 16-year-old honour roll student at Government High School.
Jason Petithome, 21, Antonio Brown, 20 and Dwayne Harris Jr, 22, appeared before Magistrate Andrew Forbes accused of intentionally causing the death of Mizilana Beauchamp on Friday.
The teenage girl was caught in the crossfire of young men throwing rocks while on a bus on Carmichael Road as she was on her way to school around 8am.
A rock struck the tenth grade student on her head and she died of her injuries in an ambulance on the way to hospital.
Her alleged killers were charged with murder under Section 291 (1)(B) of the Penal Code, which does not attract the discretionary death penalty if a conviction is reached at the end of trial.
Magistrate Forbes informed them that they would not be allowed to enter a plea until they are formally arraigned in the Supreme Court. He said the transfer of the case to the higher court will be facilitated by the presentation of a voluntary bill of indictment (VBI) scheduled for June 1.
The accused were further charged with causing $2,715 in damage to a 2012 Toyota Coaster bus belonging to Leyvon Miller.
Before they were remanded to the Department of Correctional Services, their lawyer, Stanley Rolle, made complaints on behalf of his clients that they were brutalised while in police custody. The magistrate made a note of the complaints before remanding them.
In a separate arraignment before the same magistrate, 19-year-old Terrance Rolle was charged with murder under section 291 (1) (B) concerning the March 2 slaying of 50-year-old Troy Ferguson.
Police received information around 7am that shots were heard in the Fox Hill area. On arrival at Dorsett Street, they found a man lying dead in the street with multiple gunshot wounds in his body.
Emergency personnel services were called to the scene and pronounced the victim dead.
The accused was told to expect a VBI presentation on May 4 at his next Magistrate's Court appearance.
Before he was remanded, Rolle was further charged with stealing and receiving.
It is alleged that he stole and/or dishonestly received a 2001 Honda Stream belonging to Marcia Clarke on March 1.
He pleaded not guilty to both allegations and will stand trial in Magistrate's Court on May 18.
He, too, was remanded to prison without bail.