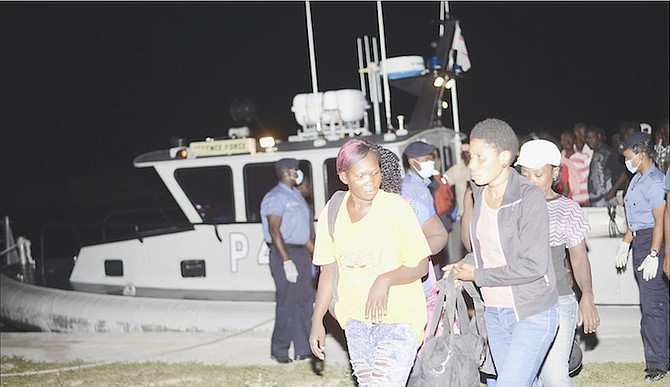 THE Royal Bahamas Defence Force apprehended two groups of illegal migrants in separate incidents last week.
According to a press release from the RBDF, a team from HMBS Durward Knowles, under the command of Acting Lieutenant Commander Carlon Bethel, discovered 18 Cubans (17 males, 1 female) on Cay Lobos, a tiny islet just over 100 nautical miles west of the Ragged Island chain.
The Cubans were found around 9pm on March 17.
Their vessel, which had apparently sprung a leak and proved otherwise unseaworthy, was also found beached near where they were discovered, the RBDF said.


"The Cuban migrants, who all appeared to be in good health, were put on board HMBS Durward Knowles where they were transported to Ragged Island," the RBDF said, adding that they were then turned over to immigration officials for processing and transfer to New Providence.
Two days later, on March 19, a RBDF vessel coxswained by Chief Petty Officer Ross Seymour, arrived at the RBDF Coral Harbour base with 46 undocumented Haitians on board.
The migrants (36 men, seven women, and three children) were on board a wooden sailing vessel that arrived off Farmer's Cay, Exuma on Saturday where they were subsequently apprehended by police stationed on the island.
The RBDF vessel P44, which was on routine patrol in the area at the time of the incident, responded by transporting the migrants to Coral Harbour where they were handed over to Department of Immigration officials for further processing.