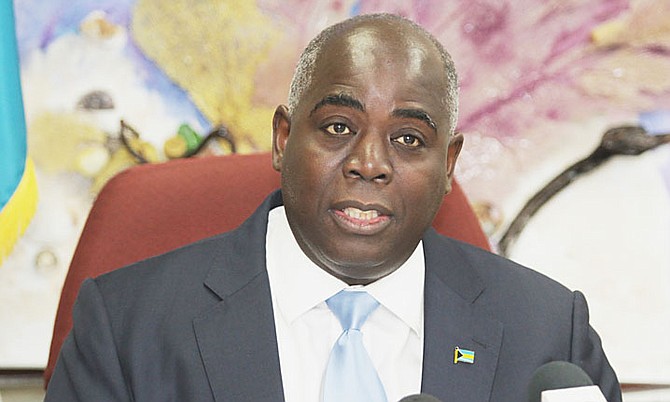 By KHRISNA VIRGIL
Tribune Staff Reporter
kvirgil@tribunemedia.net
A SECOND version of a sworn affidavit with testimony purportedly from "gang members" Livingston "Toggie" Bullard and Wisler "Bobo" Davilma has surfaced, this time revealing alleged omitted references to Deputy Prime Minister Philip "Brave" Davis.
The transcript of the sworn statement, obtained by The Tribune, appears to reveal missing portions from an affidavit that was released along with a press statement from a New York public relations firm on behalf of Canadian fashion mogul Peter Nygard last week. Bahamas Information Services Deputy Director Elcott Coleby also disseminated the first affidavit on Tuesday, which did not have the omitted references.
The deleted portions of the affidavit suggest that Bullard and Wisler were allegedly instructed to and assisted with orchestrating an operation to show that Free National Movement (FNM) Chairman Michael Pintard was arranging payment for damaging information concerning Mr Nygard and the Progressive Liberal Party (PLP).
The men also make reference to Eric Gibson and allege that when they turned over a cell phone with recordings of Mr Pintard to Mr Davis, Mr Gibson was the intermediary who handed it over to Mr Nygard.
The men's affidavits were taken on March 14 and March 15, 2015, in Manitoba, Canada at the law offices of attorneys that were retained by Mr Nygard, according to the original documents released by his PR firm.
The documents have not been filed in court, but were prepared in contemplation of litigation.
In the first reference to Mr Davis, not shown in the affidavit attached to the initial press statement, the men allege that they spoke with the deputy prime minister before meeting with Mr Pintard and former FNM Senator John Bostwick.
Later, the men were asked what was their next move after meeting with the FNM chairman and Mr Bostwick.
Davilma purportedly responded that he and Bullard went to see the deputy prime minister where they reported what was said during the meeting.
They allege that Mr Davis insisted that the FNM was after Mr Nygard because he supported the party and was willing to do anything to get information.
It was also alleged that the men were told to report back to Mr Davis.
An accusation, which was also not in the initial affidavit, was Davilma's admission that he was allegedly instructed to meet with Mr Pintard for a second time, but this time he was told to try and record the discussion. It is a claim that he repeats throughout the transcript.
He said Mr Davis allegedly told him to see whether Mr Pintard and Mr Bostwick were doing anything illegal or asking them to do anything extraordinary.
This was done using a Samsung cell phone at the British Colonial Hilton Hotel, Davilma said.
Davilma further alleged that when the meeting was finished they handed the cell phone with the recordings over to Mr Davis.
Asked about the cell phone, Davilma said it was never returned by Mr Davis, but by Mr Nygard. He said Mr Gibson had given the phone to the fashion designer.
After this, the men said they were told by Mr Davis that based on the content of the voice recordings, Mr Nygard would need their help. They claimed that it was Mr Davis who allegedly told them to go to Canada where the affidavit and transcripts were taken.
On Wednesday night in the House of Assembly, Fort Charlotte MP Andre Rollins attempted to table an affidavit that he claimed named Mr Davis as someone who "coached two individuals who the government calls criminals." He said he was tabling a "doctored" document, as well as one that was not redacted.
However, the next day House Speaker Dr Kendal Major said he would make a ruling on the tabling of the document when he has conducted his own "due diligence." Dr Major said there was "overwhelming uncertainty swirling around it", adding he will decide whether the documents will be tabled the next time he takes the chair in the House.

This is in connection to a March 9 Supreme Court filing by Lyford Cay billionaire Louis Bacon and several members of Save the Bays which alleges that Mr Nygard hired Bullard and Davilma to carry out crimes.
Mr Davis and Mr Christie were repeatedly named in a series of covert video recordings of Mr Nygard and the two "gang members", which were also filed in court.
Mr Davis has previously said that by publishing from affidavits that purport he had a close relationship with hired criminals, The Tribune was conducting a "shameful" smear campaign against him.