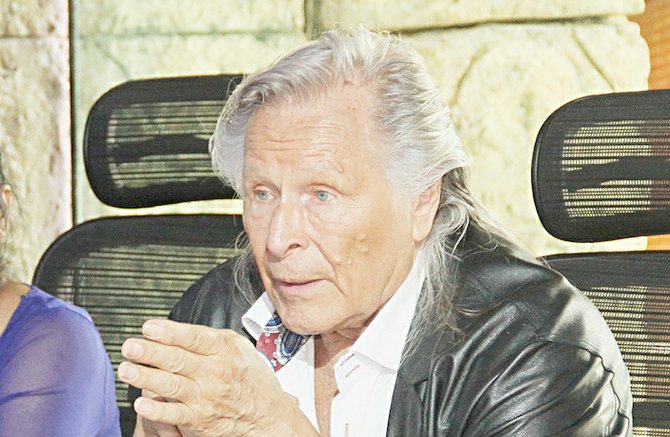 By RASHAD ROLLE
Tribune Staff Reporter
rrolle@tribunemedia.net
PETER Nygard filed an affidavit and supporting statements in the Supreme Court yesterday alleging to show evidence that billionaire Louis Bacon and former Free National Movement (FNM) Chairman Michael Pintard committed criminal activities while participating in a plan to implicate him in a murder plot.
Mr Nygard filed an affidavit by Carlos Mackey along with sworn statements by "criminals" Wisler "BoBo" Davilma and Livingston "Toggie" Bullard, two men who accused him in previous court documents of hiring them to commit murder and other crimes.
The sworn statements, taken in March 2015 in Canada, were released to the public by Mr Nygard's public relations team last week, but were filed in court yesterday with Mr Mackey's affidavit.
In these documents, Mr Davilma and Mr Bullard recant their earlier claims in which they accused Mr Nygard of hiring them as part of a murder plot.
Mr Mackey's affidavit said Mr Nygard's lawyers have presented "new evidence" to local police and will formally ask authorities to levy criminal charges against Mr Bacon and Mr Pintard.
"Nygard's lawyers say these crimes could include counseling to commit murder, suborning perjury, perjury, arson, attempted murder and uttering threats," Mr Mackey, a resident of Sea Beach Estates, said.
In Mr Mackey's affidavit, it is alleged that the two gang members said they were paid for providing evidence to "Bacon's operatives, whether true or not".
"They say they asked for $3 million for their false testimony and were provided an initial payment of $50,000 cash. Davilma and Bullard also say in their sworn statements that Bahamas Senator and FNM Chairman Pintard was present at a February 19, 2015 meeting at the Hilton Hotel, in Nassau, where the payoff was made."
According to the affidavit, a "secretive tape recording" made by Mr Davilma and Mr Bullard of that meeting was submitted to the court as evidence.
"Nygard's lawyers have since learned that Davilma and Bullard were actually paid $3 million and could have been paid as much as $5 million to provide false evince against Nygard, based upon bank records and information from confidential informants.
"The sworn statements and tape recording given to Nygard by the two criminals help prove that allegations made in this lawsuit are fabricated. The thrust of this thinly veiled publicity stunt, disguised as a lawsuit, focuses on a fictitious murder plot supposedly aimed at Fred Smith and Bacon because of their opposition through Save The Bays to development plans at Nygard Cay.
"The evidence presented in this application, particularly the video recordings of Nygard and the two criminals, refute that Nygard had anything to do with such a plot or any of the other crimes alleged in the statement of claim."
It is also alleged that the two men received an initial payment of $50,000 in cash, in $50 notes, in a Scotiabank envelope at the meeting on February 19, 2015.
"Senator Pintard orchestrated the meeting at the Hilton and was in attendance when the cash exchange occurred," Mr Mackey's affidavit alleges. "The first meeting with the two criminals and Pintard was held a week earlier on February 12 at the offices of former FNM Senator John Bostwick, who was in attendance."
The affidavit also claims that the two criminals were asked by a retired FBI investigator hired by Save The Bays to "make up names for a hit list and held up a piece of paper with two names on it while putting his finger on his lips to indicate he didn't want any discussion about it".
It is alleged that the men gave the secret recording to Mr Nygard after the February 19, 2015 meeting. It was also claimed that the men later asked Mr Nygard for millions of dollars to recant the earlier statements made against him and say they were "lies", but the fashion designer's lawyers told the men Mr Nygard would not pay them or "participate in any fraud of the court".
The documents were filed in part of an ongoing lawsuit where Mr Nygard and attorney Keod Smith are listed as defendants, while Fred Smith, QC, Mr Bacon, Joseph Darville and Romauld Ferreira - all directors of Save The Bays - along with Rev C B Moss are plaintiffs.

According to his affidavit, Mr Mackey is a television host, businessman and special project manager for Mr Nygard.