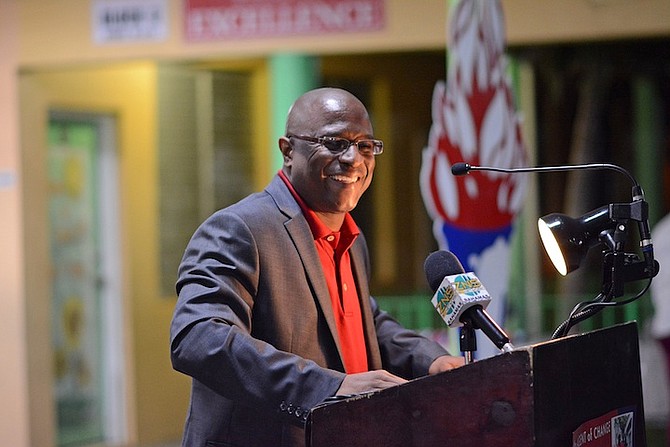 By SANCHESKA BROWN
Tribune Staff Reporter
sbrown@tribunemedia.net
MICHAEL Pintard resigned as chairman of the Free National Movement and as a senator yesterday morning over his involvement in the court action against Canadian fashion mogul Peter Nygard.
In a series of posts on his Facebook page on Monday, Mr Pintard maintained that his resignation, which was effective immediately, was "not an admission of guilt" but rather he did not want the FNM "to be distracted in our effort to defeat an incompetent and unethical government."
Meanwhile, FNM Leader Dr Hubert Minnis told The Tribune yesterday that he asked Mr Pintard to resign Sunday night because the party doesn't "need any deflection" and has to "concentrate on moving the PLP".
In a statement made earlier to the media, Dr Minnis also said the FNM supports Mr Pintard's decision to "defend himself against the political attacks leveled against him" and called for Deputy Prime Minister Phillip "Brave" Davis to also tender his resignation "based on the affidavits that raise questions about his participation in the same matter involving Mr Pintard."
Mr Pintard was named in the 400-page affidavit by Florida investigator John Joseph DiPaolo to investigate Mr Nygard's connection to self-proclaimed gang members Livingston "Toggie" Bullard and Wisler "Bobo" Davilma. The affidavit was filed by several directors of Save the Bays (STB) on March 9.
Bullard and Davilma claim that Mr Nygard paid them to stage several hate rallies and commit such criminal acts as arson and harassment against members of STB and others. They also alleged that Mr Nygard hired them to kill his opponents.
The criminals were tracked down with the help of Mr Pintard, according to Mr DiPaolo's affidavit, which noted it was Mr Pintard who alerted STB Director Fred Smith that the men were behind protests against the group.
After The Tribune broke the story, Progressive Liberal Party Chairman Bradley Roberts repeatedly called for Mr Pintard's resignation.
Last week, Mr Nygard's public relations firm released documents purported to be affidavits sworn by the two men which alleged they were paid for false testimony. The pair further alleged that Mr Pintard negotiated the payoff.
Two audio recordings have been circulating on social media of the meetings between Mr Pintard and the "gang members".
Mr Pintard, in a social media post on Monday, said he was not involved in asking anyone at anytime to lie or fabricate information about Mr Nygard or any member of the government.
Instead, Mr Pintard said he "sought to help friends and colleagues find out the truth about hate rallies and other activities that savaged them and other Bahamians who dared to stand up."
"I fear no legal or ethical wrongdoing in my role in meetings when PLP/Nygard operatives made me aware of their past criminal acts and possible dastardly and unbelievable plot that posed a potential threat to the lives and reputation of citizens of this nation," Mr Pintard said.
"I resign because I want our party not to be distracted in our effort to defeat an incompetent and unethical government.
"...The voice recordings which appear online with me discussing reasonable terms to obtain concrete, not fabricated, evidence when played in its entirety, and accompanied by the transcript of the meeting signed by the two PLP/Nygard operatives, will show I did nothing wrong. The fabricated affidavit online which was (allegedly) coached by a senior PLP politician and wealthy resident cannot change who I am and who I have been for all these years," Mr Pintard said.
"I did not know two of the criminals personally with whom I met. They were long time campaigners with the PLP in general and deputy prime minister in particular and have (alleged) contracts with the government as we speak."
Mr Pintard said his "daily fight" will now be to "reveal the truth about this entire affair and every politician, journalists, lawyer and citizen involved in selling out this country to the wealthy foreigner and Bahamian."
He said the damage done to his family, friends and colleagues by this smear campaign has been "significant" and he regrets he cannot "carry their pain."
Mr Pintard also challenged the PLP and Mr Nygard to make available the entire audio of the Hilton meeting and an accurate written transcript of the same.