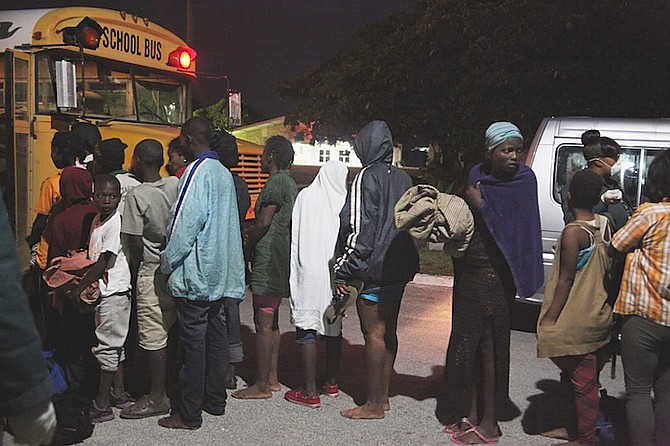 By NICO SCAVELLA
Tribune Staff Reporter
nscavella@tribunemedia.net
FIFTY illegal migrants were apprehended by law enforcement officials near Cat Island yesterday morning, according to the Royal Bahamas Defense Force (RBDF).
The apprehension takes the total of illegal migrants captured by RBDF officials since Saturday to 96.
According to the force, HMBS Cascarilla, one of three new vessels commissioned by the RBDF last Friday, was on routine patrol in the central Bahamas when it received a tip about a possible migrant landing on Half Moon Cay, just north of Cat Island.
Yesterday morning, police officers assigned to Cat Island turned over 19 migrants they had already apprehended to crew of the HMBS Cascarilla.
Teams from the HMBS Cascarilla then continued to search the area and apprehended an additional 31 people, all believed to be Haitian nationals. A beached wooden vessel, assumed to be the boat on which they were travelling, was also found.
The 50 immigrants were transferred to another RBDF vessel for transportation to New Providence, where they will be turned over to the Department of Immigration for further processing.
On Saturday, 46 suspected Haitian illegal migrants - 36 men, seven women and three children - were arrested by Exuma police after being found aboard a wooden vessel that had landed on Farmer's Cay that morning.
The migrants were subsequently transported to the Coral Harbour Base in New Providence.
Last week, the RBDF held the largest commissioning ceremony in the service's history at the John Alfred Wharf, bolstering its fleet with three new vessels and a 17-piece containerised mobile base to better safeguard The Bahamas.

The 187-foot, multifunctional cargo carrier, HMBS Major, along with two 98-foot patrol vessels - the HMBS Lignum Vitae and HMBS Cascarilla - joined the HMBS Arthur Dion Hanna, the HMBS Durward Knowles, the HMBS Leon Smith and the HMBS Rolly Gray as seven of the nine ships that will comprise the service's modern fleet.
Prime Minister Perry Christie, at Friday's ceremony, stressed that the vessels were necessary because of the country's demographics and the evident advancement in illegal migration, drug and human trafficking, all of which had been pressing the government to make such a move for some time.
Mr Christie lauded the commissioning of the three vessels as a testament to his government's commitment to invest heavily in the safety and security of the nation.