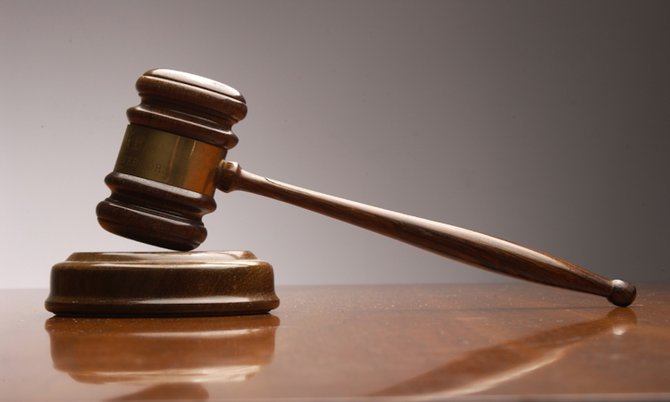 By RASHAD ROLLE
Tribune Staff Reporter
rrolle@tribunemedia.net
A SECOND affidavit filed in the Supreme Court yesterday by a US investigator alleged that "gang members" Livingston "Toggie" Bullard and Wisler "Bobo" Davilma gave "false" evidence to Peter Nygard's Canadian lawyers because they feared losing government contracts controlled by Deputy Prime Minister Philip "Brave" Davis.
These combined "lucrative" contracts with the Ministry of Works are worth $132,000 per year, according to the affidavit by John Joseph DiPaolo, a Florida based investigator. It is also alleged that the men were paid "$40,000" by Mr Nygard to give this evidence in Canada last year.

This is now the third time the men have, through affidavits, changed their story.
They now allege that Mr Nygard paid for them to go to Canada on his private plane last year where they were "coached" to make allegations about former Free National Movement Chairman Michael Pintard and Save the Bays.
The men further alleged, according to Mr DiPaolo's affidavit and supporting statements, that Mr Davis played a central role in the affair by encouraging them to "set up" Mr Pintard by covertly recording their meetings in February 2015.
This is the latest development in the bizarre controversy that has put the relationship senior government members have with Mr Nygard and his billionaire neighbour Louis Bacon under the microscope, while raising questions about the role of money in Bahamian politics.

In the latest affidavit, filed by Mr DiPaolo on behalf of members of Save the Bays, Mr Bullard and Mr Davilma claim that the affidavit Mr Nygard filed on Monday featuring their statements is doctored, as it erases the references the pair made to Canadian lawyers about Mr Davis.
"They used two affidavits because the DPM was in it and they...didn't want him affiliating," Mr Bullard is quoted as saying in one of the recent affidavits, which is dated September 3, 2015.
Mr DiPaolo, in his affidavit filed yesterday, said that investigators hired by STB knew about Mr Bullard and Mr Davilma's "Canadian affidavits" by late May 2015, adding that STB did not mention them in their March 9, 2016, court filing because they did not want to politicise the controversy by bringing Mr Davis and Prime Minister Perry Christie into it.
"However," Mr DiPaolo said, "Mr Nygard's reliance on the doctored Canadian affidavit in order to seek to discredit Mr Bullard and Mr Davilma and their evidence has rendered it necessary to disclose in full Mr Bullard and Mr Davilma's September 3, 2015, interview and the original Canadian affidavit."
"What emerges from the transcript of the September 3, 2015, meeting and what I am told and verily believe emerged at the September 3, 2015 meeting itself was that the Deputy Prime Minister Mr Philip 'Brave' Davis, and Mr Peter Nygard were involved in a scheme to entrap Mr Michael Pintard using Mr Bullard and Mr Davilma and that the deputy prime minister had, in February 2015, asked Mr Bullard and Mr Davilma to secretly record Mr Pintard and to try to get him on tape incriminating himself in some way.

"Mr Davilma did record the meeting on his Samsung phone which was placed on the table during the meeting."
It is also alleged that the men gave Mr Davis the cell phone with the recorded meeting, and according to Mr Davilma the deputy prime minister allegedly told them he would "meet with the prime minister to further discuss this."
Mr DiPaolo said that on July 22, 2015, Mr Bullard provided them with copies of "two sets" of affidavits dated March 15 and March 24, 2015 purporting to contain evidence the "gang members" gave to Mr Nygard's Canadian lawyers in Winnipeg.
"The second of these documents, dated March 24, 2015, exhibits a doctored version of the same transcript - but still purporting to be taken by the special examiner and still purporting to be a true version of the interview - which has removed from it all references in the original transcript to the deputy prime minister's involvement including his scheme to entrap Mr Pintard and references to his and the prime minister's knowledge of the February 19, 2015, meeting. This doctored version is the document that Mr Nygard now seeks to rely upon."
Contracts
In a sworn statement filed in court yesterday that is dated March 15, 2016, the men confirmed that they have had several contracts with the government over the past four years, including contracts for graveyard and road maintenance.
Mr Bullard said his contracts are worth about $6,000 a month and Mr Davilma said his contracts with the Ministry of Works - which Mr Davis heads - are worth about $5,200 a month.
Mr Davilma said his company's name is Triple Team Maintenance and Landscaping while Mr Bullard's company is called L and BJ Maintenance.
"Their combined roadside cleaning and graveyard maintenance contracts alone are worth approximately $11,000 per month or $132,000 per year," Mr DiPaolo said in his affidavit.
When asked by an investigator during the September 3, 2015 meeting if the two men made any decisions under pressure or duress, Mr Bullard allegedly replied: "When the DPM tell us what do, whether we like it or not we have to do it — he will take our contracts, we have to do it."
Earlier this month, Mr DiPaolo filed an affidavit on behalf of Save the Bays, which alleged that Mr Nygard hired Mr Bullard and Mr Davilma to commit crimes against those opposed to his development at Nygard Cay.
Mr Nygard has since claimed STB paid the men for "false testimony" and that Mr Pintard and Mr Bacon allegedly conspired to implicate him in a murder plot.