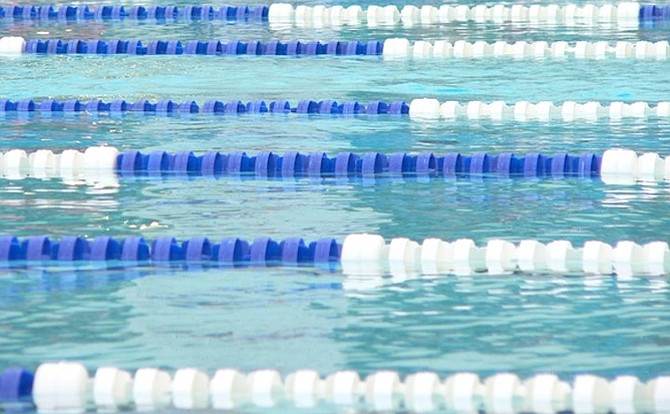 by RENALDO DORSETT
Sports Reporter
rdorsett@tribunemedia.net
It was a valiant effort toward a third consecutive CARIFTA championship title in the pool for team Bahamas, but that effort fell just short of that historic goal .
The country's 36-member team finished second at the 31st CARIFTA Aquatics Championships hosted in Fort-de-France, Martinique over the Easter holiday.
It was just a 21.5 point differential atop the points standings as Team Bahamas finished the four-day meet in second place with a total of 774.5 points. Guadeloupe rebounded from a fifth place finish in 2015 to win this year's meet with 796 points. Host country Martinique was third with 586.5 points, Barbados was fourth with 538.5 points and Trinidad and Tobago finished fifth with 437.5 points.
Guadeloupe collected 66 medals en route to the win including 23 gold, 25 silver and 18 bronze. Team Bahamas ended with a total of 56 medals - 22 gold, 22 silver and 12 bronze, Barbados was third with 44 medals - 18 gold, 11 silver and 15 bronze), Suriname was fourth with 22 medals - nine gold, seven silver and six bronze while Jamaica rounded on the top five on the medal table with 25 - eight gold, nine silver and eight bronze.
The Bahamas closed out the final day of competition strong with a late surge in the final event of the meet with three medals in the 4x50m free relays.
The 13-14 boys team of T'lez Foulkes, Samuel Gibson, Darren Laing and Izaak Bastian took gold in a new meet record of 1:40.54 secs.
Bastian took gold in the individual event in 24.25 secs.
The team of Gershwin Greene, Miller Albury, N'Nhyn Fernander and Jared Fitzgerald won gold the 4x50m 15-17 boys relay in 1:37.48 secs.
Fitzgerald and Fernander also finished with gold and silver respectively in the boys 15-17 50m freestyle in 24.0 secs and 24.11 secs respectively
Also, in the 11-12 4x50 boys relay, Lamar Taylor, Rommel Ferguson, Roman Pinder and Taro Sears captured a silver medal in 1:54.73 secs.
Taylor took a bronze medal finish individually in 27.68 secs.
In the girls 15-17 100m Breaststroke Lilly and Margaret Higgs topped the medal podium as a duo. Lilly won gold in 1:12.12 secs while Margaret won silver in 1:12.94 secs.
On the boys side, Bastian took gold in the boys 13-14 in 1:07.76 secs while Alexander Encinar took bronze in the 15-17 in 1:07.15 secs.
The Higgs duo once again medaled in the 200m Backstroke. Margaret won silver in 2:29.33 secs while Lilly took bronze in 2:29.51 secs.
Peter Morley was the only other member of team Bahamas to medal in the event with bronze in the boys 13--14 in 2:17.80 secs.
Day three began with continued dominance from the Higgs sisters in the girls 15-17 200m Individual Medley (IM). Margaret Higgs took gold in 2:23.66 secs while Lilly finished second in 2:26.14 secs.
Bastian took silver in his boys 13-14 division in 2:17.19 secs.
The Higgs duo was back at it again in the 50m Breaststroke. This time it would be Lilly capturing the gold in 33.44 secs while Margaret tok silver in 33.83 secs.
Zaylie-Elisabeth Thompson won silver in the girls 11-12 event in 38.38 secs.
Fernander added gold in the boys 15-17 event in 29.57 secs while Bastian also added gold in the boys 13-14 division in 30.41 secs.
In the 100m Freestyle, Fitzgerald took silver in the boys 15-17 in a time 52.29 secs while Taylor also took silver in the boys 11-12 in 59.68 secs.
The 200m Butterfly saw Margaret Higgs capture another gold medal in 2:25.87 secs. Darren Laing added a silver mdeal in the boys 13-14 final in 2:18.83 secs.
Day two's medal haul began with the girl's 15-17 200m Free as Lily Higgs took silver 2:08.54 secs.
The team also saw success in the Boys 50m Butterfly. Izaak Bastian won a silver medal in the 13-14 final with a time of 27.22 secs while Lamar Taylor won bronze in the 11-12 final in 29.36secs.
In the girls 100m Backstroke, the team won another pair of medals with Virginia Stamp taking bronze in 1:08.71 secs and Katelyn Cabral with a bronze in the 11-12 division in 1:12.50 secs.
Peter Morely won bronze in the boys 13-14 final in 1:03.53 secs.
The girls 15-17 400m Individual Medley saw the Bahamas sweep the top two spots with Margaret Higgs' gold in 5:09.02 secs and Lily Higgs' silver in 5:12.93 secs.
Results of the six 4x100m Medley relays were unavailable to press time.
On day one, the team set the tone quickly with a number of strong performances, including two record breaking swims.
The Bahamas boys 15-17 4×100 freestyle relay team, made up of N'Nhyn Fernander, Gershwin Greene, Miller Albury and Jared Fitzgerald set a new meet record with their time of 3:33.54. Izaak Bastian took the boy's 200m breaststroke in 2:24.99 secs. In the preliminary round he set a new meet record in that event in a time of 2:23.27.
The 15-17 girls also won gold in the 4×100 freestyle relay in 4:02.28 secs, Margaret Higgs won the 15-17 girls 20m breaststroke in 2:35.33, while Lilly again took silver in 2:38.54 secs.
Fernander captured an in individual gold as well in the 100m butterfly in 56.36 seconds.
Lamar Taylor won gold in the 11-12 boys 50m backstroke in 31.48 secs, Devante Carey scored a silver medal in the 13-14 boys 50 backstroke and Samuel Gibson took silver in the 13-14 boys 100m breaststroke.
The Bahamas has been one of the top teams at the CARIFTA level with consistent finishes over the past four meets.
In 2012, while hosting at the Betty Kelly-Kenning Aquatic Centre, the Bahamas finished second with 657 points and 49 medals.
At the 2013 meet in Kingston, Jamaica, the Bahamas finished fifth in the team scoring with 509 points and was sixth in the medal count with 29, including eight gold, 10 silver and 11 bronze.
In 2014, the Bahamas topped the standings for the first time in Savaneta, Aruba.
The 36-member team finished with a total of 736.50 points and 55 medals, including 23 gold, 22 silver and 10 bronze.
In 2015, the Bahamas won the meet again with a total of 756.50 points, more than 100 points ahead of the host team Barbados, who was second with 642.50 points.
Trinidad and Tobago finished third with 494.50 points, Guadeloupe was fourth with 478 points, while Jamaica rounded out the top five with 456 points.
The Bahamas claimed 54 medals en route to the win, including 29 gold, 17 silver and eight bronze.