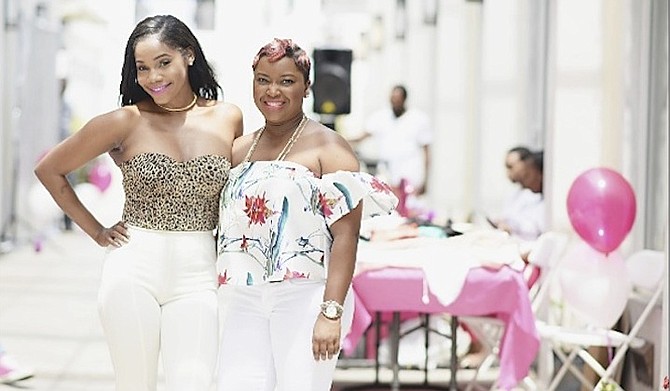 By ALESHA CADET
Tribune Features Reporter
acadet@tribunemedia.net
When two fashion-forward entrepreneurs come together to stage an event, one hopes it will be stylish, chic and offer the trendy woman everything she could want or need.
Shakara Maycock of Pretty Persuasions Accessories and Kenva Strachan of Kbs Klothing lived up to this expectation when they recently hosted their first pop-up shop at the Avista Lounge, located in Elizabeth on Bay Marketplace.
Inviting similar companies like the Cosmetic Case, Made In the Shade and others to join them, the pop-up shop was designed with Bahamian fashionistas in mind.
Taking part in events like the Little Pink Party and Shopaholics Anonymous in the past, inspired Shakara to host her very own event.
"I have been in sales for about seven years. I started Pretty Persuasions in 2014 and it was always home-based. I decided that this year was going to be the year to host my first official pop-up shop because I wanted to do something on my own. I approached Kbs for a collaboration to host and it went from there," she told Tribune Woman.
On display at the event were her Pretty Persuasions statement accessory pieces, including necklaces, hoop earrings, studs, midi rings and bracelets. Shakara said her hope is to one day branch out into clothing as well.

"This is only the beginning for the business. I want to do much more, like opening a storefront. I want to host pop-up shop events every season, so the next one would probably be in July heading into the summer season," she said.
For Kenva's Kbs Klothing, the goal is to keep the company's name out there for persons to become more familiar with it, so when the opportunity was presented to her to assist in organising a pop-up shop she immediately went for it.
"I think this pop-up shop offers the exposure for small businesses like ours. The feedback here today has been positive. We have had sales from every vendor here and I was very happy to see that," Kenva said.
"I was very excited about this, because as young female entrepreneurs it is a bit difficult because there are so many people going after the same market. What separates you is to continue on and offer a diverse selection of your services."
With Kbs Klothing, she is certain that she can provide everything a fashionable woman could want, from accessories to stylish and classy clothing. She said the idea is to always try her best to cater to the needs of her clients, providing them with one-of-a-kind pieces that cannot be found anywhere else on the island.
"I am very hard-working, independent and driven. I do whatever it takes to get the job done. If there is something I want, I pursue it without thinking twice. I sacrifice because that is what success is all about. There are slow periods, but I am learning that this is how businesses go. There will be slow periods, but I always keep it moving. Within that time I just use it to market stronger than before," said Kenva.
Originally from Grand Bahama, Kenva said she has always followed the latest fashion trends. After repeatedly receiving compliments on her personal style choices, she decided to make a living out of it, officially launching her home-based company last June.
"This is something I love to do. I love to look nice and I love to put outfits together. Business has been great so far. It was surprising to me how great it was because this is something new and Bahamians gravitate to new things, and then sort of stray, but this has been all good," said Kenva.
Like Shakara, Kenva is also hoping to open a physical store in the future, but even when that time comes she does not want to eliminate the delivery aspect of her business.
"Most Bahamian women when they get off from work around 5pm or later, they are looking for stores to purchase an outfit or two, and by that time the stores are closed, so I want to always provide delivery services to those clients. For my Grand Bahama clients I offer shipping. I want to keep Kbs Klothing fresh and fun. I want to hear the name Kbs Klothing ringing everywhere and that is my goal for this year," she said.