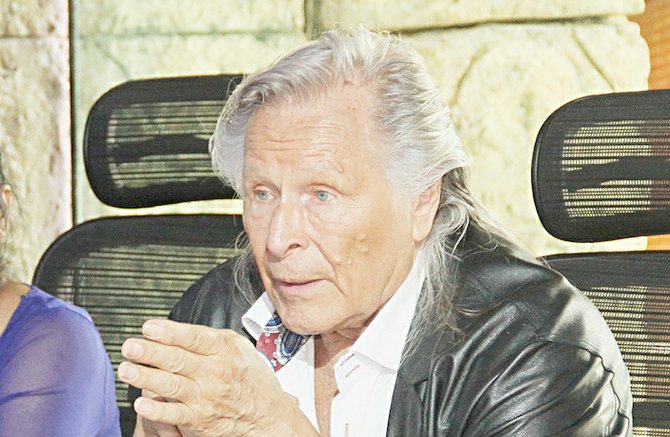 LYFORD Cay resident Peter Nygard has sued The Tribune, Save the Bays, as well as Free National Movement Leader Dr Hubert Minnis and the party's former Chairman Michael Pintard, and others, for "libel" as well as "abuse" of the Supreme Court and Parliament.
According to a writ filed in the Supreme Court yesterday, Mr Nygard is seeking an injunction restraining 16 defendants from committing "further acts intended to harm or likely to harm" his economic or other legal interests and an injunction restraining the defendants from committing "further libel or slander" against him.
He also wants a declaration that each defendant has "abused" the processes of the Supreme Court and that Dr Minnis "abused the high office of leader of the
opposition" and the processes of Parliament on March 13.
However, Mr Nygard likely meant Monday, March 14, when Dr Minnis addressed the House of Assembly about the allegations against the fashion mogul.
The lawsuit is the latest court filing in reaction to a March 9 affidavit filed by four Save The Bays (STB) directors - Joseph Darville, Romauld Ferreira, Fred Smith and Louis Bacon - as well as Reverend CB Moss against Mr Nygard and lawyer Keod Smith.
They allege that Mr Nygard orchestrated a two-and-a-half-year campaign of fear and violence to "kill or scare off" activists he saw as opponents to development plans for his Lyford Cay property.
Mr Pintard was named in the STB affidavit as being instrumental in uncovering the alleged plot.
According to his writ, Mr Nygard is seeking damages from the defendants as a result of a "conspiracy to injure" him from an "unknown date" until court documents were filed against him on March 9.
He alleged that there was no "merit" in the action against him and the plaintiffs knew that "the said action was founded on perjury and the subornation thereof."
He is also suing on grounds of "the malicious publication of libel associated with the quotation of affidavits known to contain perjured statements together with caricatured political advertisements on or about March 9, 2016 and thereafter."
Mr Nygard is also suing Mr Bacon, and his wife Gabrielle; the Moore Bahamas Foundation; Mr Smith, QC; Callenders & Co; Save the Bays Ltd; Mr Ferreira; Mr Darville; Rev Moss; Diane Phillips and the trustees of the Free National Movement.
Tribune Publisher Eileen Carron and Tribune Business Editor Neil Hartnell were also named as defendants in the lawsuit.