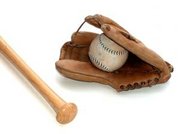 By BRENT STUBBS
Senior Sports Reporter
bstubbs@tribunemedia.net
THOMAS Davis was very stingy on the mound and Teran Wood delivered the big offensive blow as he led the defending champions Commando Security Truckers to an impressive 11-0 rout over the Chances Mighty Mitts to open the New Providence Softball Association's 2016 season.
Their performance came on Friday night after last year's runners-up Johnson's Lady Truckers stunned the defending champions Lady Stingers in a 15-8 win as the league, now headed by Henry Dean, got started with the official opening ceremonies.
Saturday night, the Hitmen wasted little time in pounding the Dorsey Park Boyz 11-1 behind the return of Alcott Forbes, while the Bommer G Lady Operators doubled up the Sunshine Auto Wildcats 18-8.
None of the games went the distance as they were all stopped either via the fourth or fifth innings.
Truckers 11, Mighty Mitts 0: After he did his damage by firing the first perfect game for the new season, Thomas Davis watched as Teran Wood drilled the first pitch from Victor Grant in the fourth for a game ending two-run homer over the right field fence.
"I didn't expect a perfect game, but I expected for me to come out and did what I did tonight and that was to be on top of my game," Davis said. "It's good to get a good start, but it's going to be a long season, so we hope to be there again."
Commando Security had a chance to stop in the game in the third, but they fell one run short after Ramon Storr struck out with Olando McPhee and Lamar Watkins in scoring positions at third and second respectively.
Wood finished with a perfect 3-for-3 night with three runs scored; Watkins was 2-for-3 with a solo homer in a six-run third and Winston Seymour was 1-for-2 with two RBI.
Davis struck out the first three batters then watched as Moses Kerr lined out and he was one of two batters who didn't struck out. The other was Malik Innis, who grounded out to end the third.
Davis, however, was just as impressed as everybody else with Wood's homer.
"It's early, so it was good to see him get that kind of start with the bat," Davis said of Wood. "It's looks very promising for him and the rest of the team. I think we should have a very good season."
Lady Truckers 15, Lady Stingers 8: Melinda Bastian was 3-for-5 with three RBI, including a two-run triple in the fifth and scored four times to help Marvel Miller picked up the win on the mound.
Krystal Evans had four free passes and scored twice; Shevette Taylor was 2-for-3 with a RBI and two runs scored; Natasha Paul was also 2-for-3 with two RBI and two runs scored and Sheena Taylor walked four times, drove in a run and scored twice.
"The girls played a good game today. We didn't hit the ball as well as we are capable of hitting, but we got the hits when it counted the most," said coach Darren Bowleg, who assisted manager Bobby 'Baylor' Fernander. "We're just knocking of some rust, but we will get better as the season progresses.
"We just need to work on our defense and cut down on the errors that we made that allowed the game to go longer than it actually should have gone. If we had made those plays, the game would have been over a long time ago. So we just have to work on our defense."
Thela Johnson, in an uncharacteristic performance, gave up 17 walks with six hits for the loss. She had one hit, walked and got on with an error and scored twice to help her cause offensively.
Amber Johnson was 2-for-3 with a RBI and a run scored and Rondell Cooper got on base on two errors and scored as many times.
Hitmen 11, Dorsey Park 1: Alcott Forbes made a successful return to the NPSA and the Hitmen, whom he last played for before going to play in the Eleuthera Softball Association last year, by tossing a no-hitter with 10 strike out. Culbert 'Buster' Evans was tagged with the loss.
He got all the help he needed offensively as Rudy Fox's lone hit was a two-run homer in the second. He also scored two runs. Dino Sweeting went 2-for-3 with a RBI and two runs scored; Michael Ingraham was 1-for-2 with two RBI and two runs scored and Edron Knowles was 2-for-2 with three RBI and a run scored.
Lady Operators 18, Lady Wildcats 8: Diva Burrows got the win over Michelle Moss in their ladies' opener on Saturday.
Janette Hilton had a perfect 3-for-3 night with five RBI, including a two-run in-the-parker in the second to lead Bommer G. Lateria Brown was 2-for-3 with five RBI and three runs scored and Laquell Bain was 1-for-1, walking three times and drove in three runs, including a three-run in-the-parker in the third and four runs scored.
Moss helped her own cause by going 2-for-3 with six RBI, including a three-run in-the-park homer in the fourth, scoring just a run for the Wildcats. Maryann Ferguson was 2-for-3 with two runs scored to help out.