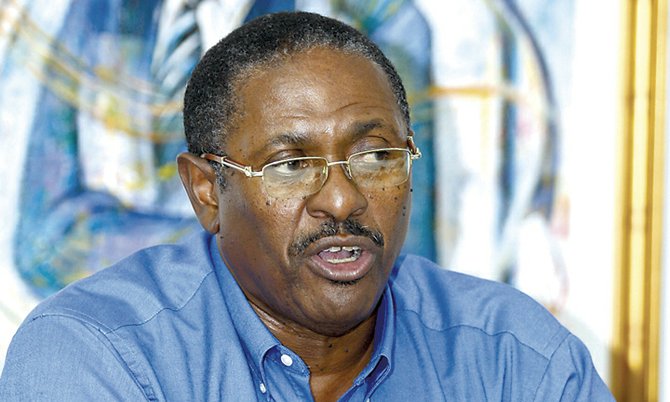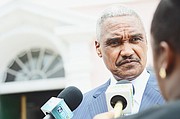 By SANCHESKA BROWN
Tribune Staff Reporter
sbrown@tribunemedia.net
THE governing party yesterday distanced itself from comments made by Tall Pines MP Leslie Miller about exiling transgender Bahamians, saying his remarks "do not reflect the policy position of the Progressive Liberal Party or the government of The Bahamas."
In a statement, PLP Chairman Bradley Roberts said the party "respects the principles of freedom of choice, freedom of association and freedom of speech as protected rights under our supreme law" adding that the party "was founded and built on the foundational tenets of social justice and equality".
His comments came one day after Mr Miller denounced the growing transgender community and urged people to financially contribute to having this sect of society exiled to their own private island to ensure "they stay out of the way" of generations of Bahamians who are depending on the success of the June 7 referendum.
Mr Miller also pledged to give the group its first $1,000 toward this relocation. He told The Tribune that it was his constant prayer that "God would come now and just end the world" as their actions "go against His will."
In his statement, Mr Roberts also reiterated that the upcoming referendum had nothing to do with same-sex marriage and urged voters not to be distracted.
"The PLP agrees with the Office of the Attorney General that the Constitutional Amendment Bills currently before the Bahamian people have absolutely nothing to do with same-sex marriage, the expressed concerns of the LGBT community and the entrenchment of these laws into our Constitution will not bestow any new rights on members of that community," Mr Roberts said.
"Notwithstanding the wide freedoms of expression and speech that we enjoy today and the timing of such expressions, Bahamians far and wide are well aware and discerning enough to know that one issue has nothing to do with the other. The constitutional bills currently before the Bahamian people seek to achieve equal rights for women, men and their children under the law. The PLP unequivocally supports equal rights for all Bahamians under the law.
"As varying groupings use the current referendum debate and climate to draw attention to issues important to them, and they have every right to, we must not become distracted and lose sight of the objective of the four constitutional bills before us; that is equality for all Bahamians under the law. No more, no less," Mr Roberts said.
Last week, Bahamas Transgender Intersex United (BTIU) launched its multi-level equality campaign, "Bahamian Trans Lives Matter", which seeks to secure equal rights for transgender Bahamians as the debate about the upcoming gender equality referendum continues.
During a press conference at the Hilton, BTIU representatives called on the Christie administration to ensure that the fundamental rights of all genders of Bahamians are protected. However, the group stressed that it is not trying to shift the focus of the gender equality referendum.
The group is calling for equal access to healthcare, education and employment without discrimination.