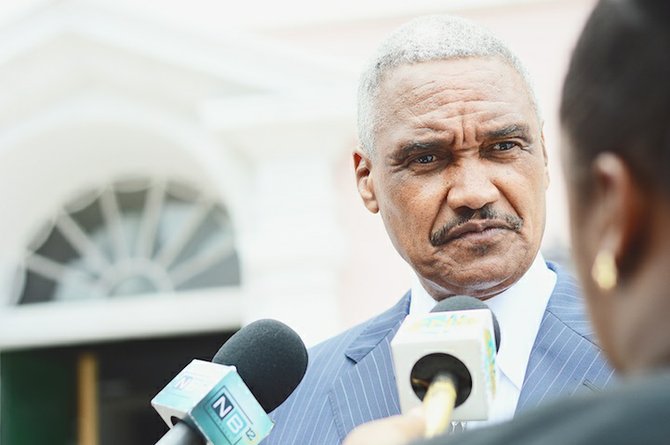 By KHRISNA VIRGIL
Tribune Staff Reporter
kvirgil@tribunemedia.net
TALL Pines MP Leslie Miller said he does not see the need to apologise for his disparaging comments that members of the transgender community should be exiled to a private island.
When asked if he would apologise for the remarks, the former Cabinet minister responded: "For what? I don't see the need."
On Monday, while denouncing the transgender community, Mr Miller pledged to give the group its first $1,000 toward relocating. He added that it was his constant prayer that "God would come now and just end the world" as their actions "go against His will."
"Let me say first of all that I never said I was speaking for the party but I was speaking on behalf of the Bahamian people," the Progressive Liberal Party MP said yesterday, when asked to respond to the backlash he has received from some quarters.
"When I speak, it is what I am hearing from people on the ground."
"I have nothing against these people. When I go in my constituency and I talk to people every day they question me and have serious questions for the government. These are fair-minded people who constantly ask, where it is that we draw the line?
"What am I to tell my grandchildren when they see this kind of behaviour? Is this the type of life we should emulate?"
He added: "My point is that if you want to live that kind of lifestyle, keep it to your self. Don't come out bragging so big and bold. It's as if you are trying to impose your will on us."
The former minister of trade and industry also dismissed the concerns of Bahamas Transgender Intersex United (BTIU), which last week made its debut at a press conference calling for equal rights for transgender Bahamians.
In response, Mr Miller said on Monday: "If you want to like man, that's your damn business but don't try to impose your will on other people."
He told this newspaper that he was of the view that members of the transgender community were currently being treated equally because "they are men therefore you go and live like a man, you are a woman (so) you live like a woman." This he said was equality in the eyes of God.
BTIU representatives have called on the Christie administration to ensure that the fundamental rights of all genders of Bahamians - male, female and transgender - are protected.
"I have children and grandchildren and we (are in) a society that is already fractured with all the damn crimes and things that are happening in our country," Mr Miller said on Monday. "Why is it that everybody has to have their own way in our country? We are supposed to be a Christian nation and all you got is fighting between one church and the next.
"These transgender, or whatever you call them, is against the will of God so why would we as a people want to go against the will of God to have these people say what they want from what they don't want. You are either a man or a woman.
"God should hurry up and come and get this over and done with so we don't have to worry about them. Just come stop the world," Mr Miller said.
On Tuesday, lesbian, gay, bisexual and transgender (LGBT) activists denounced Mr Miller's "hate speech" and said they were afraid the comments would incite violence against members of their community.
PLP Chairman Bradley Roberts released a statement on Tuesday saying Mr Miller's comments do not reflect the policy position of the party or the government.