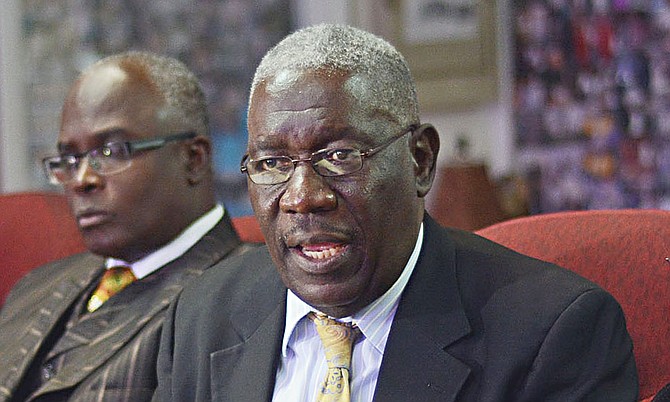 By KHRISNA VIRGIL
Tribune Staff Reporter
kvirgil@tribunemedia.net
BISHOP Simeon Hall yesterday said he was "disappointed" by former Court of Appeal President Dame Joan Sawyer's recent comments branding the impending referendum "a waste of time", as he urged support of the four Constitutional Amendment Bills.
The prominent religious leader said a "yes" vote to all four referendum questions would put the electorate "on the right side of history".
The bills, Bishop Hall said, will give this country's Constitution the capacity to view all persons with the worth that God gave them.
Explaining his position on the amendments, he said it was his wish that all of his children are afforded the same rights under the law.
"The future will be bicultural, biracial and our great grandchildren will judge us fair for creating a progressive society," he said yesterday in a press statement.
"Christian scripture underscores the worth of each individual be they male or female.
"The bills, as I understand, will give our Constitution the capacity to view all persons with the worth that God gave them."
He added: "I encourage Bahamians to study, speak their minds, and then vote. Also we should respect those who differ with us and have a healthy debate.
"I was disappointed in Dame Sawyer's comment but not surprised . . . This woman has a tendency to make comments short of thought."
Dame Joan served as chief justice from 1996 to 2001. That same year she was appointed president of the Court of Appeal, a post she held until she retired in 2010.
Last month, she told The Nassau Guardian that while she had not seen the referendum questions, she did not think the upcoming vote is necessary.
Her comments drew rebuke from supporters of the referendum.
Former Cabinet minister George Smith last week said her comments were proof that she is "absolutely mistaken" on the needed constitutional changes.
Her statements, Mr Smith said, may be a "haunting" example of how thousands of Bahamians view the impending referendum.
Attorney General Allyson Maynard-Gibson also responded. In a statement she said the main purpose of the referendum is to ensure that "equality under our laws be enshrined in our nation's most important legal document."
Meanwhile, Long Island MP Loretta Butler-Turner questioned Dame Joan's motives.
Mrs Butler-Turner said what "bothered" her the most about Dame Joan's comments, was the former chief justice's declaration that if she did vote, she would vote no, despite not having read any of the proposed questions.