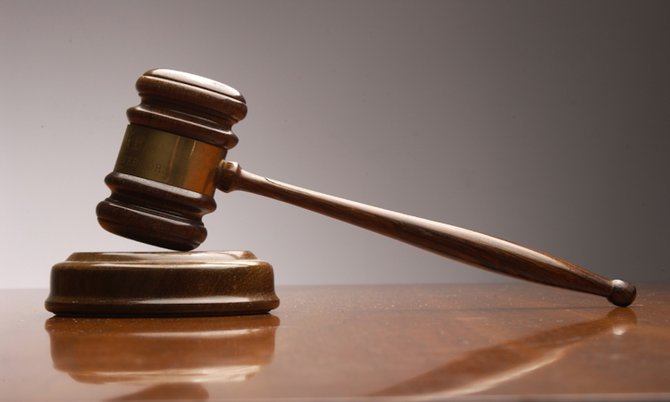 By NICO SCAVELLA
Tribune Staff Reporter
nscavella@tribunemedia.net
A ROYAL Bahamas Defence Force officer and his girlfriend were arraigned in a Magistrate's court on Friday for their alleged involvement in a break-in and robbery at the Bahamas Telecommunications Company's JFK location last week. 
Darien Miller, 32, and his girlfriend, 25-year-old Stephenique Jones, of 8 Blue Hill Road, appeared before Magistrate Andrew Forbes to face shop breaking, stealing from a shop and receiving charges in connection with last week's controversial robbery of the RND Plaza store.  
It is alleged that both Miller and Jones stole upwards of $20,000 in cash, cheques and mobile phones and other devices and also allegedly received over $1,000 worth of mobile phones albeit knowing that they were obtained or appropriated by an offence. 
Their arraignments came days after two former policemen, constables Ricardo Henry Bain and Herman Lawrence Pinder, pleaded guilty before Magistrate Forbes to stealing three Samsung Galaxy J1 phones after responding to a break-in at the store last Thursday. 
The two men were dispatched to investigate the break-in, but instead allegedly helped themselves to the three phones which they stuffed in their chest area. The alleged theft was captured on the store's hidden camera. 
Both constables have been ordered to pay a fine of $3,000 by Friday or spend 18 months at the Department of Correctional Services. 
Regarding the charges against Miller and Jones, it is alleged that some time between April 28 and 29, both individuals, being concerned together, stole $10,023.44 in cash, $9,098.76 in cheques, 50 mobile phones and devices valued at $1,580.50 and a steel safe valued at $2,000, all property of BTC. 
It is also alleged that both Miller and Jones received three Samsung J5 mobile phones valued at $623.22 and one LG G4 mobile phone at $542.18, together valued at $1,165.40, whilst knowing the aforementioned were obtained or appropriated by an offence. 
It is also alleged that sometime between April 28 and 29, both Miller and Jones, being concerned together and with others, broke into and entered BTC with the intent to steal. 
Both Miller and Jones pleaded not guilty to the charges. 
Jones also faced a separate charge of stealing by reason of employment from a matter that allegedly transpired earlier this year. 
It is alleged that Jones, on February 21, stole $90 from Esso On-The-Run on Prince Charles Drive, to which she had access by reason of her employment. 
She plead not guilty to the charge. 
Magistrate Forbes, after hearing the not guilty pleas, adjourned both matters until July 4 at 10am.