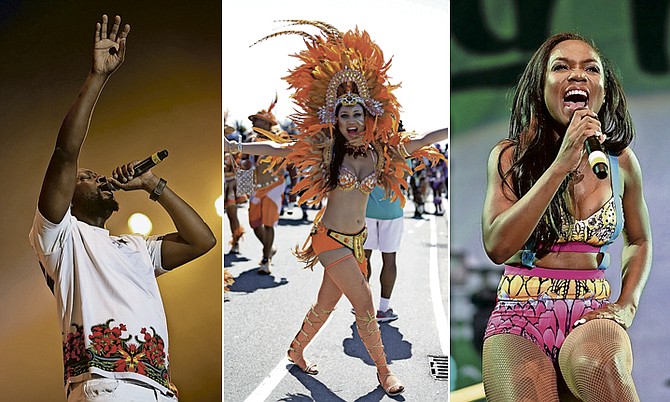 By RASHAD ROLLE
Tribune Staff Reporter
rrolle@tribunemedia.net
AS thousands danced to the music of carnival on Friday night, Prime Minister Perry Christie beamed at the "success" of the event, saying it is a "win-win" for The Bahamas.
Mr Christie's comments came during an interview with The Tribune as Grammy award winning Haitian artist Wyclef Jean entertained the crowd at the mega stage in Clifford Park.
He spoke positively about the impact he expects Junkanoo Carnival to have on launching the
careers of a new generation of Bahamian music stars.
"When we launched Junkanoo Carnival we did it on a basis that it was going to be strengthening the culture of the Bahamas, adding another dimension to it and creating an opportunity for Bahamians to make money out of doing what they love," he said.
"We believe that they will be inspired by it, that it will be an engine where thousands of Bahamians enjoy themselves and new stars will be born in the Bahamas. I've been interviewed now by a number of American news stations, by yourself, and we are generating a tremendous amount of interest."
With news of high murder rates often reverberating throughout the commonwealth, Mr Christie said events like carnival provide an important counterpoint to the narrative "naysayers" promote about the direction in which the country is headed.
"This is the key ingredient of success," he said. "We can assemble thousands of people to enjoy the music and have no violence, no criminality, no misbehaviour because the emphasis is on watching this happen."
On Friday night, local band Visage entertained the crowd performing a medley of their hits. Next, contestants in the finals of the Music Masters contest took to the stage all vying for the grand prize.
Trinidadian singer Destra closed out the event, taking the stage after Wyclef Jean.