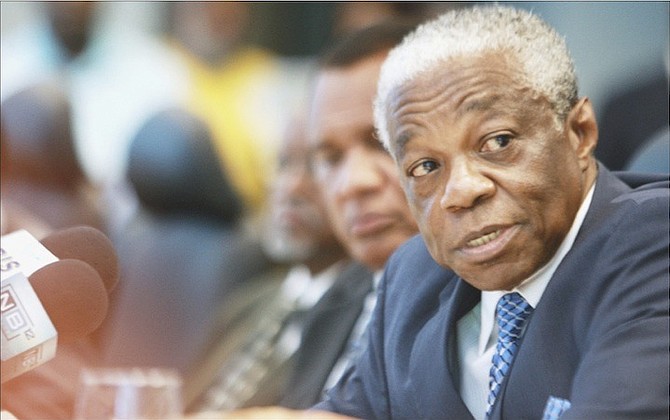 By RASHAD ROLLE
Tribune Staff Reporter
rrolle@tribunemedia.net
WITH momentum ahead of the June 7 constitutional referendum appearing to be with the "no" campaign, National Security Minister Dr Bernard Nottage said yesterday that he believes talk of same-sex marriage will negatively impact the vote on amendments to the Constitution.
"It will impact the vote negatively because the question and amendments have nothing to do with that," he told reporters during an interview following a House of Assembly session yesterday.
"The fact that these matters are being brought up now is a bit mischievous because it would appear as if there are very responsible people in our community who are prepared to suggest that (the bills have to do with same-sex marriage) when they know full well that they are not connected."
Talk of same-sex marriage and rights for the lesbian, gay, bisexual and transgender (LGBT) community have come to define the debate about the referendum. Government officials and organisers of the YES Bahamas campaign have pushed back against this narrative, stressing that the upcoming vote is about equal rights for men and women in the Constitution.
Dr Nottage, however, said he has no regrets about the government not including the words "at birth" in the fourth proposed amendment which would prohibit discrimination based on one's sex, which is defined as being male or female.
"No regrets because we've been informed that including the words at birth would've created more confusion than is the case now," he said.
Some pastors have suggested that those words, along with the Constitutional Commission's recommendation that a provision explicitly saying that the anti-discrimination amendment would not conflict with laws prohibiting same-sex marriage, would have allayed fears about the ramifications of the amendment if they were included.
Nonetheless, Dr Nottage said: "I understand that there is a certain segment of the community who are genuinely concerned about same-sex marriage, I understand that, but to suggest that this will lead to same-sex marriage ought not to be a consequence of their fears but based on the facts as they are. There are some people who are even suggesting that it is the intent of the government that same-sex marriage be validated by these changes and that's not true."
Despite pushback, Dr Nottage said he doesn't believe it's necessary for proponents of the amendments to start encouraging Bahamians to at least vote for the first three amendments which, unlike the fourth bill, concern citizenship, even if they can't support the fourth bill.
"I wouldn't say that to anybody," he said. "I think people should support the four bills, which leads to a path for citizenship for people who qualify for it and the path for equality for people regardless of their sex. Those are simple propositions, nothing complicated about that."
"I think there's a lot of erroneous misinformation being circulated by people who oppose the amendments," he continued. "I trust that Bahamians will make sure they acquaint themselves with the true impact of the amendments and vote to support them."
Dr Nottage, who is the minister responsible for referendums, also said he could not yet verify the cost of the referendum, saying it will cost about just as much as the gaming referendum of 2013. Dr Nottage has previously said the gambling vote cost the government just over $1.2 million.
He also became mildly defensive when asked if he thinks the government should give public funds to the referendum's vote "no" campaign, telling The Tribune only the minister of finance can speak to the issue.
"I'm a member of the government," he said. "That's not an appropriate question to ask me. I already told you where to go with that question."
Since the vote "no" campaigns requested public funds several weeks ago, government officials, including Prime Minister Perry Christie and Deputy Prime Minister Philip "Brave" Davis, have refused to give a definitive response to the question of what it intends to do.