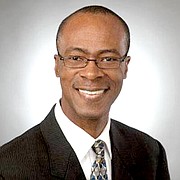 By RICARDO WELLS
Tribune Staff Reporter
rwells@tribunemedia.net
THE group Think, Bahamas! has withdrawn its invitation to the YES Bahamas campaign for a public debate on the four Constitutional Amendment Bills in protest over the government's "abuse" of public funds to finance a "yes" vote and refusal to equally fund opposing campaigns.
Pastor Cedric Moss, the group's spokesperson, in an open letter addressed to YES Bahamas' Co-chairs Senate President Lady Sharon Wilson and former Senate President Lynn Holowesko, criticised members of YES Bahamas, the government and the mainstream media for their inability to "fairly manage" the interest of the Bahamian people.
"We are disappointed at this lack of courtesy shown to us," wrote Pastor Moss.
He indicated that Think, Bahamas! viewed the public debate as its "only hope" to be heard nationally.
Pastor Moss stated that when he penned his original letter to YES Bahamas, he did so under the perception that a publicly broadcast discussion would give a venue to present all the information "conveniently" being omitted by YES Bahamas and the Constitutional Commission's public education arm to be heard.
"Unlike YES Bahamas, we don't have the Public Treasury bankrolling us, nor do we have the media supporting us to get a fair hearing," he wrote.
He said he grew wearier after hearing YES Bahamas representative Heather Hunt on a talk show, reportedly speaking about how the group's funds were being used.
He suggested that Mrs Hunt, as a member of the Free National Movement, should be supporting a "fair" referendum, referring to how former Prime Minister Hubert Ingraham handled the 2002 constitutional referendum.
Pastor Moss said his group has concluded that participating in a debate with YES Bahamas would give the appearance that it endorses the government's abuse of public funds.
The group earlier this month issued an invitation to the YES Bahamas campaign.
Pastor Moss in an earlier letter to the co-chairs, suggested that it would be beneficial for voters across the Bahamas to hear simultaneously from the YES Bahamas campaign as well as those on the vote "no" side.
Subsequently, Mrs Holowesko said she and other members of the campaign were "fully interested in, prepared for and capable of" a public debate on the gender equality referendum.
She said the YES Bahamas campaign, as a part of its educational operation, would welcome an open debate.
On Monday, however, Pastor Moss indicated that he had never received a formal response from the YES Bahamas campaign.
Think Bahamas! is opposing three of four Constitutional Amendment Bills.