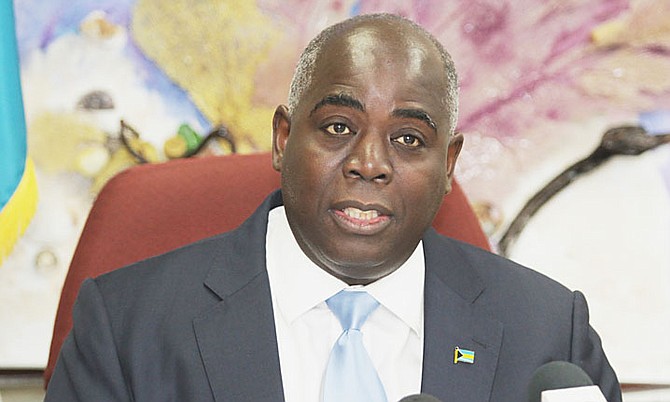 By RASHAD ROLLE
Tribune Staff Reporter
rrolle@tribunemedia.net
THE lesbian, gay, bisexual and transgender community yesterday condemned the "ignorant" comments Deputy Prime Minister Philip "Brave" Davis made about transgender people on Wednesday.
Speaking to reporters outside the House of Assembly, Mr Davis brushed aside concerns about whether same-sex marriage could result from the constitutional referendum by saying there's nothing complicated about the question of whether one is a man or a woman, even if someone gets gender reassignment surgery.
"In any way we look at it," he said, "sex means male or female. However we may cut ourselves, slice ourselves, how an orientation or wanting to be other than ourselves, it wouldn't change us from being what we are. If you are a male, you are a male. If you are a female, you're a female.
"If you cut it, it don't make you a woman. If you slice it or add to it, it don't make you a man. And that's the end of it," Mr Davis added.
His comments thrust him into a debate about the nature of sex and gender in which many government figures have so far avoided, preferring instead to just emphasise that the upcoming referendum doesn't concern the LGBT community and its own fight for equality.
Erin Greene, human rights activist, was particularly critical of Mr Davis.
"The deputy prime minister's comments were disrespectful, flippant and suggests that he is not entirely certain of what his function is," she said. "He manifests he is unaware of his function as minister of works and his obligation as MP and representative of the state and its citizens."
Ms Greene said the comments were likely a part of the government's attempt to distance itself from the LGBT community "to save a failed referendum process."
"Unfortunately he is just compounding the various issues," she said.
"There is definitely been an uptick in violence (against the LGBT community) which I believe is directly related to the discourse surrounding the referendum," she added. "The increase in violent discourse on social media is not solely about increased visibility, but a combination of that and the perpetuation of the idea that visibility means pushing a political agenda."
Nonetheless, she said she's also seen an uptick in support for the LGBT community by some Bahamians.

"Over the last 15 years we've seen tremendous growth in terms of the country's understanding of its obligation to its citizens," she said. "We've seen a progressive movement in terms of understanding human rights and human rights principles. We would like to encourage all political, religious and social leaders to acknowledge their roles as leaders and to measure their speech and to be careful when they speak that they are not engaging in hate speech or perpetuating an already dangerous environment for LGBT people specifically and for all vulnerable people in general."
Alexus D'Marco, head of Bahamas Transgender Intersex United (BTIU), told The Tribune yesterday that Mr Davis' statements are a set back for her community.
"However, through education, knowledge and awareness, we will get information to them," she added. "The fact of the matter is they really don't know and through the education that we're going to provide to them, they're going to sit and listen and engage with us, so maybe they can be able to speak on these things. I'm willing to engage with any level of government and department clarifying the issues relating to the LGBT community, including transgenders, as to who they are and the problems they face in their daily lives, what a transgender person means in the Commonwealth of the Bahamas and so forth. Most people don't understand that there is a difference between one's sexual orientation and one's gender identity. At the end of the day they're all human beings."
The government will hold a constitutional referendum on June 7, which seeks to end gender discrimination.
Four questions will be on the ballot, however some people fear that the fourth, which deals with discrimination based on sex would inadvertently lead to same-sex marriage. The government has denied this, saying sex refers to being male or female, not one's sexual orientation.