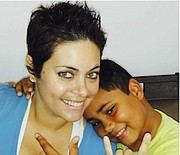 By BIANCA CARTER
In life it is sometimes it's hard to look at things from a "glass half full" perspective. Honestly, I think most of us do try to live our lives every day with that attitude. Sometimes we accomplish that, and sometimes we don't. But the good thing about having a bad day is that most of us make up our minds to not stay in that mind-set for any length of time.
I think it's important to recognise when we start feeling sad or defeated, but I also think it's very normal to have those "blah" moments. Everyone has those moments. Isn't that what makes us human?
When you recognise that something feels like its run amok, have your moment, and then gather yourself and change your way of looking at a situation. This ability is a wonderful thing. I think when we give ourselves time to reflect and ponder a situation, we begin to heal and help the situation. Allowing the emotions to flow freely and then using our minds to correct our thought process is what we should be doing, especially when things aren't in sync.
I've developed a process for happy living. And it is a daily process that I sometimes need reminding of.
Things have been like a roller coaster in my life for the past couple of years, so I've had a lot of practice in keeping things more on the happy side. Here are a few things I've learned along the way:
• What people think of you is none of your business.
Ha! This took me forever to grasp. An old friend said that to me one day and I just couldn't really accept or understand it. I suppose it comes from wanting to control all aspects of your life, and I guess once you give up on the idea that you can control everything around you, it makes total sense. And the best part is, it feels so good not to worry or wonder what other people think of you. Evidently, people will perceive you in the wrong way for the wrong reasons, they may not understand you, or like you for many reasons, but that's totally OK. That being said, there will be people in your life that see you, understand you and love you for exactly who you are, no exceptions. Sometimes they even see things in you that you forget to acknowledge, and they remind you of it once in a while. Either way, you don't control it, so just let it go. The good people will stay with you and the bad don't matter.
• Be grateful for everything, even the bad stuff.

You know the saying, "someone always has it worse," right? That's very true. But it's hard to relate to that when you think you're going through the thick of things. I totally get it! What I've found is that all those bad things are actually leading you to or preparing you for the good things. I know it's strange, but I really believe that we only grow and learn in the rough times. I mean, think about it, who wants to change a thing when you looking out from on top of the mountain? Right! It's only when you're looking up at that mountain that you begin to put one foot in front of the other and climb. And oh, is it painful. Look at it the same way we look at our children. You remember the trauma and scars we endured to bring them into the world, but it the pain doesn't matter once they're born, because any pain is worth the pay-off – our kids. That's similar to a lot of things in our lives. Sacrifices, hard times, change – they all lead us to where we want to be. Honestly, I'm far from perfect; I have my moments. But I believe this, as much as I believe the sky is blue.
• Be kind, just because.

I know there are times you just want to be right and give someone a piece of your mind, especially when things aren't going as planned. But the truth is that giving someone a piece of your mind is no guarantee that things will work out your way. In fact, they probably won't work out your way if you're not being kind to people. Chances are, they won't understand or accept what you're saying anyway. So the people that irritate you, or that you find difficult, give them your grace and kindness. You'll get so much further in life, and you may in fact see a side of them that is kind towards you. Everyone is going through something in their life and we should be sensitive to that and treat others how we would want to be treated. It's hard out there!
• Set your boundaries.

Relationships are complicated, complex things, and not everyone understands how to act and what to say all of the time, because everyone thinks differently. But we all have the right to set boundaries for the people whom we engage with in our lives. Being clear with what's OK and what is not OK will be beneficial for both parties. You wouldn't want someone to drop you over something you didn't realise offended them, and you wouldn't want people treating you in a way that's offensive. Setting clear boundaries of what is OK and not OK in your relationships will go a long way in your happy-life-living journey.
Love and hugs!
• Bianca Carter is a certified lactation counsellor and founder of Bun in the Oven.

For more information, email her at info@babybunintheoven.com. Follow BITO on Facebook at babybunintheoven, and check out the BITO Blog every Monday and Thursday at http://babybunintheoven.com.