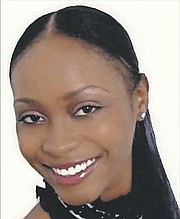 By ALESHA CADET
Tribune Features Reporter
acadet@tribunemedia.net
THE desire to help women look and feel beautiful was what led Destini Helen Nesbitt to become a certified aesthetician who today owns an all-natural skincare company.
Over the past 10 years, the 29-year-old mother-of-two perfected her craft in Nassau as well as abroad in Florida, creating her very own skincare line along the way called Caya Simone Skin Essentials. All the cosmetics, she said, are made from fresh fruits and vegetables, natural oils and Bahamian plants.


"My love for reading also contributed to me creating the skincare line of my own. It may sound strange, but as kid going to the grocery store I would always read the ingredients on items. Little did I know that by me doing that it would serve an even greater purpose in my life than I could have imagined," Helen told Tribune Health.
She believes the beauty and skincare profession allows her to be the chemist she never thought she could be.
"I enjoy creating formulas for all skin types just as much as I enjoy performing treatments as well," she said.
Helen said it brings her great joy to see her clients achieve positive results using her products, and she loves the fact that she can assist in boosting another woman's confidence.
Presently employed at a new salon, the Color Me Crazy Beauty Studio, Helen said her job is ensure that every client who walks through the door, walks out satisfied to the point of booking another appointment before they leave.
"Caya Simone products eliminate one's skin concerns rather than extend them. Clients indulge in customised skin and body treatments as well as facial and body waxing done by me. We also provide hair and nail services as well," said Helen.
She emphasised that it is especially important to have regular facials. Facials, she explained, are more than just a time for relaxation and pampering, they are vital to skin health given that the skin is the largest barrier against infections.
"The facials provided by Caya Simone Skin Essentials here at Color Me Crazy Beauty Studio consist of deep cleansing to thoroughly remove oil build-up due to overactive sebaceous glands and exfoliation to remove dead skin, which promotes healthy cell turnover without drying out the skin. Our skin treatments also consist of massage of the neck, which aids in ridding the skin of toxins and reduces water retention by lymphatic drainage," she said.
When it comes to waxing, Helen said the process eliminates cuts and nicks you get from shaving, as the hair is pulled from the root. By having this done, she said, the hair grows back slower and finer than with shaving.
"I would recommend that both men and women indulge in professional skin treatment every six weeks," she said.
"When it comes to skincare, I always inform my clients that what you put inside of your body shows on the outside, both male and female. Sunscreen is a must when trying to achieve certain skin goals. Healthy living is vital in order to achieve healthy skin."