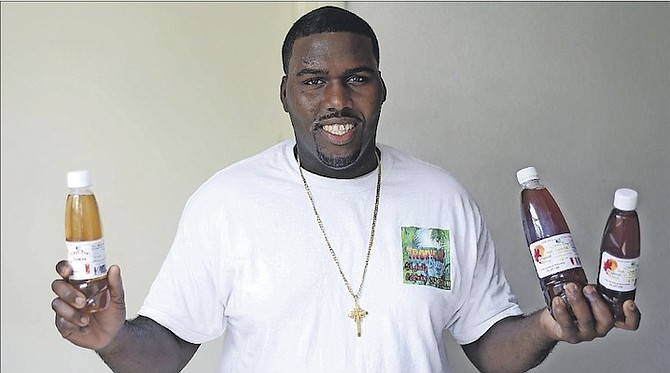 By JEFFARAH GIBSON
Tribune Features Writer
FROM soothing a troubled tummy, to helping cleanse the body, there are many health benefits associated with drinking tea.
Recognising the many benefits of this age-old beverage, local tea maker Justin Rahming has created his very own line of bottled iced teas that are formulated to cool the body down in the heat of the Summer and nourish it at the same time.
"I love mixing healthy drinks, and what inspired me most was the fact that there are many drink selections out there, but not many for sick or ill folks. I wanted to create a healthy option for all persons, especially those who suffer from diabetes, high blood pressure and other known illnesses that prevent this group from being able to have a wide variety of drinks," he told Tribune Health.
Mr Rahming's company, Tropical Breeze, creates teas in a wide variety of flavours, including lemon, super berry, raspberry, green tea and ginger. Mr Rahming also offers five finger leaf, fever grass, moringa and a body flushing teas.

Research over the years has shown that some teas may help with cancer, heart disease, diabetes, weight loss, lower cholesterol, and bringing about mental alertness. Additionally, it has antimicrobial qualities.
"One of the major benefits people can get from tea is a body cleanse," Mr Rahming said.
"The benefits of this drink is a healthier diet. It is good for a total body cleanse; it relaxes the nerves, causes the blood to flow as it should. It also helps with brain expansion and other intellectual growth; it repairs what is broken and makes it new."
Mr Rahming said the best kind of tea to drink is the totally natural kind.
"Our drinks are made from fresh tea straight from the earth. Unlike most tea we drink today, this tea is brewed here in the Bahamas and doesn't go through no factory or machine that feeds or triggers off the cancer cells in the body," he said.
"The process of the tea from the root is that it is brewed for a healthy result, blended with flavoured fruit or plant, after which the healthy sweetener is added. It is not is sweetened with sugar at all and has no added flavours, artificial flavours or any preservatives. It is also both fat and sodium free; there are no carbohydrates, no potassium, no after-taste at all."
Mr Rahming hopes to expand his line of teas to offer even more options for those who are looking for a beverage option to complement a healthy diet.