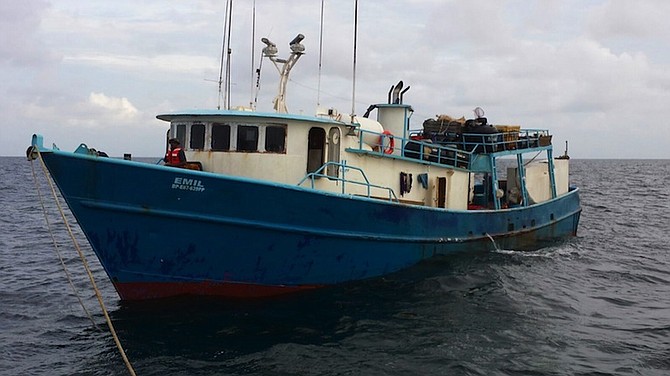 THE Royal Bahamas Defence Force (RBDF) on Friday reported the apprehension of a Dominican fishing vessel and its 11 crew in a suspected poaching operation in the southern Bahamas this week.
According to officials, the HMBS Lignum Vitae intercepted the 60-foot vessel near Cay Lobos on the Great Bahama Bank on Wednesday, after observing the ship for several days.
On boarding the vessel, RBDF officials found a large quantity of suspected scale fish and lobster.
Captain Tellis Bethel, the Acting Defence Force Commander, said: "The capture of the Dominican vessel was the result of an extended anti-poaching programme for the protection of Bahamian fishermen and the preservation of vital marine resources." He commended the collective efforts of the Defence Force's Commander Operations, Lt Cmdr Clarence Dean, the Squadron Commanding Officer, Lt Cmdr Whitfield Neely and the Operations Officer, Snr Lt William Sturrup, for devising an effective strategy to capture the poachers.

The HMBS Lignum Vitae was commanded by RBDF Senior Lieutenant Bertram Bowleg at the time of the apprehension.