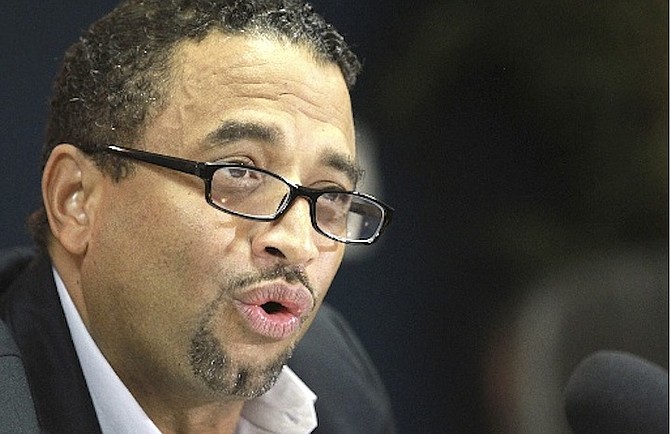 By RASHAD ROLLE
Tribune Staff Reporter
rrolle@tribunemedia.net
DESPITE courting the possibility of a coalition, Democratic National Alliance Branville McCartney would not reveal yesterday whether he thought FNM leader Dr Hubert Minnis would be better for the country than Prime Minister Perry Christie.
Mr McCartney said he was surprised by Dr Minnis' willingness to form a coalition when pressed for details about such a merger at a press conference.
He noted that if a coalition is to be formed, he would have to "shape" Dr Minnis up a bit along the way.
"(I would have to) toughen him up a bit and (get him) not afraid to tackle the big issues."
Mr McCartney said discussions about the matter are "still up in the air".
"Dr Minnis was just on a talk show and someone characterized him in terms of how he is like a Perry Christie," he said when asked if Dr Minnis would be a better leader than Mr Christie.
"I don't know," Mr McCartney said. "I can't answer that. It's difficult to answer that. I'm looking at the way his party is now and how Perry Christie's party is. Perry's ministers are running amok in this country and it looks like he has no control over it. You have certain people in the FNM doing all kinds of foolishness."
Mr McCartney also downplayed a row that erupted in the press this week between him and Dr Minnis.
In an interview with The Tribune on Tuesday, Mr McCartney said the FNM was a "sinking" party, and its leader was pompous and a poor politician. He emphasized that Dr Minnis could not keep his party together, and had allowed the Progressive Liberal Party to control him. Firing back, Dr Minnis called the DNA leader "arrogant" and "bombastic".
Yesterday, Mr McCartney said he took no offence to Dr Minnis' criticism.
"I've not bashed the good doctor," he said. "I didn't take offence to what Dr Minnis said of me. Not at all. I didn't mean to hurt his feelings. The FNM is in disarray. You got different factions in the FNM. They've gone after their own leader. They're trying to oust him even now. They're trying to call an early convention. They say he's weak. I don't get into that."
Mr McCartney said he is concerned that if the June 7th referendum on gender equality is successful, Mr Christie will try to call an early election.
"If they're successful on this gaming referendum they just might call an early election because there's nothing else going on for this government," he said. "There's nothing else on the horizon. If they get a win, that's a feather in the prime minister's cap."