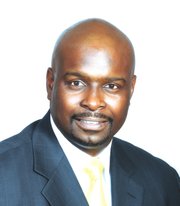 By RASHAD ROLLE
Tribune Staff Reporter
rrolle@tribunemedia.net
ENVIRONMENT & Housing Minister Kenred Dorsett criticized a Tribune report yesterday, emphasising that the Bahamas Mortgage Corporation has been conducting audits required by law.
The Tribune reported that several years worth of audits for the Bahamas Mortgage Corporation (BMC) remain outstanding.
In a joint statement with BMC chairman Alex Storr, Mr Dorsett said the tabling of audits for 2014 and 2015 has been delayed because the BMC is in the process of finding a new company to conduct its audits. He noted that the head of the previous company, Jeffrey Beneby, of Beneby & Co, died.
As for 2013, Mr Dorsett said that year's audit was completed and "sent to the Cabinet office to be approved for tabling".
Cabinet ministers are expected to table documents for institutions like the BMC on an annual basis.
Mr Dorsett took issue with The Tribune's report that stated audits for the BMC were consistently tabled under the former Ingraham Administration. He called the report misleading, and underscored that audits tabled for that period were submitted by him.
 "In 2012, when I took the helm, as chairman, at BMC it was discovered that there had not been an audit carried out since 2008," Mr Dorsett said.
"To remedy this, we contracted the firm of Beneby & Co. which produced audited financial reports for 2009, 2010, 2011 and 2012.  This, of course, was a herculean task given the number of transactions and clients that BMC has.
"These audited financials were turned over to Minister of the Environment and Housing, Hon Kenred Dorsett.  They were approved for tabling by Cabinet and tabled in the House of Assembly on May 27th, 2015 by Minister Dorsett."
Parliamentary records confirm that last May Mr Dorsett tabled audits for the BMC for the years 2009 to 2012.
However, former BMC Chairman Dr Duane Sands yesterday maintained that the previous administration conducted annual audits.
"When I took over the mortgage corporation, the books were in shambles," Dr Sands said. "We let the financial controller go when I took over there. We had to bring in a whole new financial team in order to sort out the ledger to get to the point where the auditors could actually make a statement about the books. We had to hire an independent auditor."
Gowon Bowe, of PricewaterhouseCooper, the firm hired by the previous Ingraham administration to conduct audits, confirmed yesterday that the firm completed annual audits at the BMC up to 2010.
The Tribune reported on Thursday that cabinet members have sometimes failed to table audits on a timely basis as required by law.
When it comes to such financial statements, gaps exist in the public record with respect to the Public Hospitals Authority (PHA), the Water & Sewage Corporation (WSC), the Broadcasting Corporation, the Bahamas Mortgage Corporation, the College of the Bahamas and the Hotel Corporation of the Bahamas.