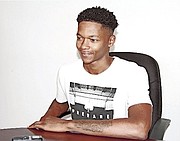 By BRENT STUBBS
Senior Sports Reporter
bstubbs@tribunemedia.net
IT'S not very often that you hear stories of a player coming from one sport to another and going on to become a professional player.
Henry Thompson defied the odds when he passed up the game of basketball to rekindle his interest in baseball, a move that has landed him a job in the Cincinnati Reds' minor league baseball organisation.
On Thursday, Thompson became the fifth player of the Max D Baseball Programme to sign a professional contract in the last two and-a-half years and just the second in the group to secure a deal with Cincinnati.
He joined the list that includes Dale Davis and Lucius Fox. In July, Max D is hoping to sign another three to professional contracts.
"I feel pretty good. My whole life was based around playing professional sports, so I feel pretty good about signing this deal," said Thompson as he was flanked by his mother Lona Thompson, Geron Sands and Greg Burrows Jr, co-founders of Max D along with Cincinnati's Bahamian recruiting agent Brian Armbrister, as he signed his name on the dotted line.
"I'm just looking forward to becoming another pitcher on a minor league roster. My game is coming around after moving from basketball to baseball. My specialties have really helped me out."
Thompson, 21, began playing baseball at the age of 11 to 12 years. He attended Charles W Saunders and St Anne's High School before leaving for the United States in 2010 to continue his high school education and then on to college before he returned home.
Once he got back here, Thompson decided to switch to play basketball where he starred as a 6-foot, 2-inch player in high school and college.
"It was a quite transition, one that was unexpected," said Thompson, a big fan of the Cleveland Cavaliers and LeBron James as well as the New York Yankees and Robinson Canoe. "Playing basketball was not easy. Definitely playing baseball wasn't easy as well. The transition wasn't easy. It just wasn't expected at all."
Armbrister welcomed Thompson to their organization, calling him one of the unexpected raw talented players he ever came across.
"I think it's a great look. Max D was about to convert him back to the sport that he started playing at a young age," he said. "For him to be able to throw 90 miles per hour and don't have a regiment says a lot bout what the guys are doing at Max D.
"We have to give a lot of kudos to them for doing their part and just like any other system, you have to start somewhere and just continue moving up. Over the last few years, these guys have put in a system where they are getting the guys off to the next level. So I know the guys in the Reds are just waiting for him to come."
While the formal deal was just completed on Wednesday, Thompson spent all day Thursday securing all of the necessary arrangements for him to travel today to the Dominican Republic where he will play in their instructional league.
"When guys sign and they haven't been playing in a system, they try to get some reps, so he will be going to what we call primary school baseball, get his workout regiment where he will be able to have an understanding of what is required of him so that when he move on to A ball and Triple A, he will know how to conduct himself as a professional athlete."
Just how long Thompson will remain in the Dominican Republic will depend entirely on how quickly he develops his game so that he can join Grand Bahamian Rashad Munroe, the other Bahamian in the Reds organization who is now in Arizona.
Armbrister, a former minor league player in the Reds organization, thanked Max D and all of the other leagues in New Providence, Grand Bahama, Abaco and Eleuthera for the role they are playing in preparing the next generation of players to play professional baseball coming right out of the Bahamas.
Sands said from the day Thompson came into Max D, they realized his potential and they immediately began to work on developing his skills.
"I told him that he's welcomed to come to Max D. He was a hard worker, one who never complained about anything. He only wanted to set his goals to play in the big league," Sands said.
"That's something that we look for in baseball, how bad you want to play baseball and how bad you want to be a professional baseball player. With him having a basketball background, I checked up on how competitive he was and we realized that he had that edge that could get him to the next level."
Burrows Sr said it's a great honor to see another Max D player go off.
"Henry came on to us as a basketball player with a raw talent to throw the baseball with a 90 mile per hour range," he said. "We showcased him, worked out with him and now he has the opportunity to fulfill his dreams with the Cincinnati Reds.
"They are happy about him and excited to have him. It just goes to show that you might think a sport is your sport, but your natural talent might lead you into another direction and you never know when that might be. So we are very happy for him."
No one was more elated about his accomplishments than his mother, Lona Thompson.
"I never doubted him once," she said. "I knew he had the capability to make it in baseball than basketball. I watched him play baseball from a very young age and I saw the passion that he had for it."
She said she is very pleased with the progress that Max D has made and enabled her son to play professional baseball. She said she hope this will inspire his younger sister Lolita Thompson, who is a pitcher on her softball team at Linsley High School.
The siblings inherit their sporting skills from both parents – their father Brando Thompson was a high jumper for the St Augustine's College Big Red Machine and a member of the Kentucky Colonels basketball team, while his mother was a versatile athlete who played all sports for the Aquinas College Aces.
"I just wish my son all the best. I know that he's going to do very well," Mrs Thompson stressed. "He's a good guy."