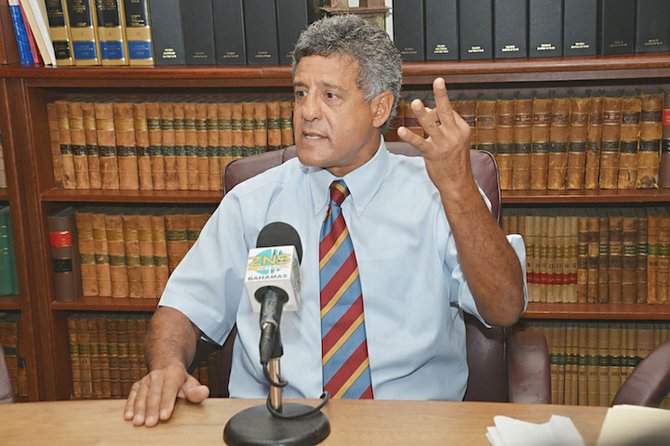 By LAMECH JOHNSON
Tribune Staff Reporter
ljohnson@tribunemedia.net
ATTORNEY Fred Smith, QC, yesterday threatened to file a motion to hold Foreign Affairs minister Fred Mitchell in contempt of court over his statements against the injunction barring parliamentarians from disclosing confidential information of environmental group Save The Bays.
Mr Smith, lawyer for yhe environmental group Save The Bays, accused Mr Mitchell of displaying a disregard for a live constitutional case before the Supreme Court and warned that he may pursue contempt proceedings. Mr Mitchell is one of two parliamentarians at the heart of a constitutional dispute concerning the recent disclosure and tabling of STB's private emails in Parliament.
On Wednesday, the Fox Hill MP called the actions now before the court "nonsense" and said he hoped that court officials would see their way clear to deal with the actions appropriately.
The Foreign Affairs and Immigration Minister further insisted that he does not consider himself bound by any injunction issued by the court as it applies to attempts to stifle what is said in the House.
Mr Smith said: "Mr Mitchell is proclaiming that he will continue to say what he wants say and ignore the injunction and at the same time, his attorney takes a different position in court."
"Mr Mitchell can't have his cake and eat it too."
The current action before Justice Charles was brought by the Coalition to Protect Clifton Bay (Save The Bays); Zachary Bacon, the brother of hedge fund billionaire Louis Bacon, a resident of Lyford Cay, Mr Fred Smith and Mr Feron Bethell.
Dr Lloyd Barnett, Loren Klein, Franklyn Williams (Deputy Director of Legal Affairs), Darcell Smith-Williamson and Hyacinth Smith appear for Mr Jerome Fitzgerald, Fox Hill MP Fred Mitchell (2nd respondent) and Attorney General Allyson Maynard-Gibson (3rd respondent).
Yesterday, Justice Indra Charles said she had not seen the news relative to Mr Smith's complaint.
"It appeared on all the radio stations," Mr Smith said, "the TV broadcasts, and in all of the print media. He clearly said 'I intend to ignore what the court says. Either Mr Mitchell, through his counsel is going to accept the jurisdiction of the court, as Dr Barnett said, or not."
Dr Barnett said he had no instructions on this matter, adding that it should not interfere with current proceedings.
Mr Smith, while agreeing that the proceedings could still continue, urged that the issue was not trivial. He aded that he didn't think Mr Mitchell's attorney or the AG's attorney "should get away that easily".
"Mr Mitchell is taking a completely different position from his lawyers," Mr Smith said.
"After these proceedings, we may file a motion to hold Mr Mitchell in contempt for failure to allow due process and to adhere to the jurisdiction of this court."
The judge noted the applicant's right to make such an application and asked for the substantive case to continue.
In March, Mr Fitzgerald, the Minister of Education, accused STB of being a political organisation seeking to "overthrow" the Progressive Liberal Party government under the guise of an environmental group. During his contribution in the House of Assembly, Mr Fitzgerald read private emails from STB members and others, which he said bolstered his claims.
Mr Fitzgerald further warned members of the environmental group to "batten down" because a "category five" hurricane was on its way, as he threatened to table "every single" email and bank statement in his possession if needed to protect his integrity and parliamentary privilege.
Also in Parliament, Mr Mitchell claimed that some $8.25m has been filtered through various organisations connected with STB - locally and internationally - from 2013 to 2015.
Last month, STB was granted an interlocutory injunction restraining the government from further disclosing the group's confidential information in Parliament. The injunction was granted by Justice Charles to last until May 12. However, it remains in place until the conclusion of the substantive case.
The judge's order said government ministers are "prohibited" from any further appropriation, perusal, use, publication or disclosure in Parliament or elsewhere of any correspondence, including emails, belonging to the applicants.
Counsel for the respondents are expected to make their responding submissions today when the matter resumes.