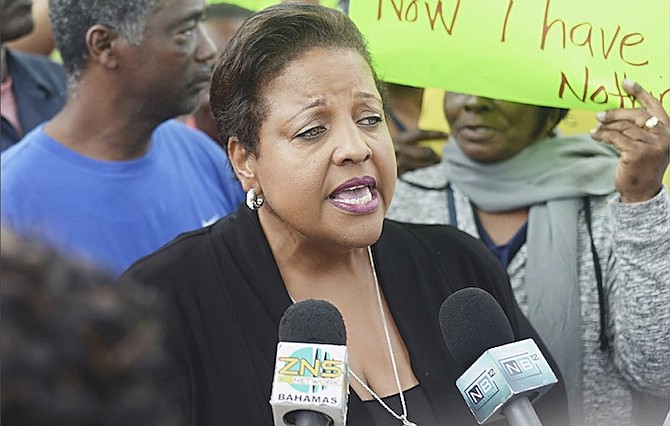 By SANCHESKA BROWN
Tribune Staff Reporter
sbrown@tribunemedia.net
LONG ISLAND MP Loretta Butler Turner yesterday admitted that she was "not confident" the proposed gender equality referendum will pass.
Mrs Butler Turner explained that the general public does not trust the current government, and when combined with the government's handling of the previous Gaming referendum and opposition claims of a "gay agenda", she is not sure how the vote will turn out.
However, she said, her view has not changed on the subject and she will continue to support the referendum and help to educate the public – just as she did in 2002.
"I will continue to support this, it is not a PLP initiative in fact I feel strongly that this vote was driven by the policies and philosophies of the FNM. The PLP have played political games with this process and that is why we are in the position we are in today but I have taken the stance that this issue is bigger than the politics," Mrs Butler Turner said.
"The trans-gender, bi-sexual, homosexual conversation is secondary. I believe that is being used as a red herring by people to justify the difficulty they have in accepting what the current administration is saying.
She said: "People do not trust the process combined what with the fact that they dressed up the gambling opinion poll as a referendum, said it was binding, got a no vote and then decided to do their own thing, people do not trust this government."
Mrs Butler Turner said she will continue to advocate for a "yes vote" and continue to work with the current government for the bills to pass.
"I am not confident in the vote but I am confident in what I am doing is the right thing. Standing up and saying yes is the right thing, it is going to make a difference in people's lives. I do not have confidence but I have been doing what I need to do and will continue to do it."
The four Constitutional (Amendment) Bills were passed in the House of Assembly in March after a nearly two year delay.
The referendum will be held on June 7.
Bill one seeks to give a Bahamian woman the same rights as a Bahamian man to pass on citizenship to her child born outside of The Bahamas.
Bill two would give a Bahamian woman the same right as a Bahamian man to pass on citizenship to her foreign husband.
Bill three would give a Bahamian father the same right as a Bahamian mother to pass on citizenship to his child born out of wedlock, provided proof of paternity.
The final bill would make it unconstitutional to discriminate on the grounds of sex, meaning being male or female.