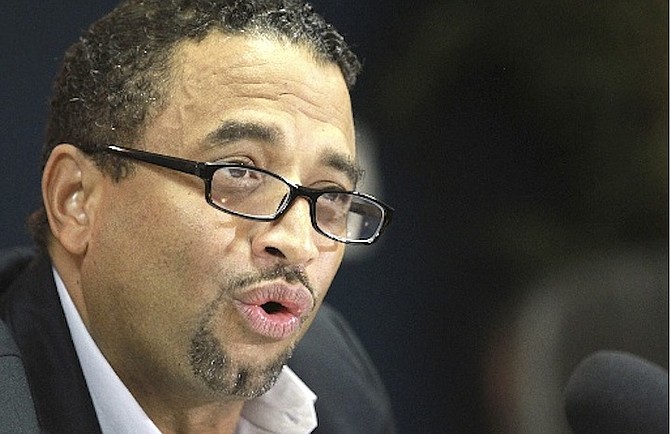 By AVA TURNQUEST
Tribune Chief Reporter
aturnquest@tribunemedia.net
PROGRESSIVE Liberal Party (PLP) Chairman Bradley Roberts yesterday issued a strong rebuke of Democratic National Alliance (DNA) Leader Branville McCartney, telling the former MP to humble himself and stop trying to hustle his way back into the Free National Movement (FNM).
Mr Roberts said Mr McCartney's "public antics" amounted to juvenile political theatre at best, and advised that he begged Dr Minnis for a nomination.
"Branville McCartney appears to be so high on himself that he does not see the doors and windows all closing in around him," Mr Roberts said. "I will again attempt to rehabilitate him from his "high" and knock him back into reality," he said.
Mr McCartney lashed out at Mr Robert's dismissal of the viability of a FNM and DNA coalition, calling the PLP Chairman a political dinosaur. Mr McCartney reasoned that fear was spreading through the governing PLP as the possibility of a coalition between his party and the FNM was becoming "more and more real".
Yesterday, Mr Roberts said: "There is a popular commercial playing now on local television which warns of the pitfalls of arranged, improper and dubious marriages very much like the incestuous and politically promiscuous same-sex union that is now being proposed between the FNM and the DNA. The PLP finds this latest proposition in the local political firmament worthy of commentary because given the proclivity of Dr Hubert Minnis to put his foot in his mouth and McCartney's presumption of the divinely anointed political Barabbas of The Bahamas, we in the PLP are frightened for the deepening of our democracy.
Mr Roberts said: "With powerful parliamentary personalities in the FNM already dismissing the sordid and salacious conjugal political marriage of the FNM to the DNA, one wonders if they can even get through a decent courtship or arrive at a pre-nuptial agreement that both sides will not spend an entire general election campaign tearing apart."
Mr Roberts pointed to comments by Long Island MP Loretta Butler-Turner, who emphasised that a coalition was not a good idea because the DNA had little to offer to the FNM. He underscored that a number of DNA candidates in the 2012 general elections have already left the party.
Mr Roberts said: "McCartney should do the honest and honourable thing and admit that he just wants to get himself an FNM nomination and leave Chris Mortimer, Ethric Bowe and Andrew Wilson saddled with the gas bill for their huge green buses. This must not sit well with his other former political buddy Renward Wells, who can now see the FNM nomination in Bamboo Town slipping away from him while Mark Humes pursues the FNM nomination in Fort Charlotte over Andre Rollins."
"One last bit of unsolicited advice to McCartney from ye old 'political dinosaur' Bradley Roberts who only spent 25 consecutive years in Parliament, retired on his own terms and engineered two general election victories as PLP national chairman," he said, "sit small and shut up in hopes that Minnis does not put more "Bamboo Town" on you and you still don't get an FNM nomination.
"Not another squeak from you Mr Branville McCartney. There is still yet a slim, slim, very slim chance that you may get to wear the wedding dress you are publicly yearning for … albeit RED," he added.